Procure-to-pay (P2P) is an integral part of any manufacturing organization. P2P function goes through processes such as requisitioning, purchase, receiving payment, accounting for goods and services, and more. In a nutshell, the procure-to-pay function entails all activities from ordering to payment. The productivity of an organization depends to a large extent on the efficiency of the P2P process. The P2P function involves technologies for processes such as procuring raw materials, deciding on quantities, estimating production costs, planning production, and more.
Steps in a typical Procure to Pay Process Include:
Identifying the needs

Inviting bids by vendors

Vetting the vendors and placing orders

Receiving raw materials/supplies from vendors

Inspection 

Invoice Processing

Payment
The procure-to-pay process goes through several stages that warrant a high level of human efficiency in a manual system for the process to work seamlessly. The manual procure-to-pay process in any organization is time-consuming and tedious. Besides, the process is vulnerable to human errors. Sometimes, such errors could have severe repercussions for the business.
One of the biggest challenges that manufacturing organizations face is maintaining the inventory at an optimum level to ensure timely deliveries to buyers. This requires seamless management of vendors and suppliers. An efficient supply chain functions at the optimum speed efficiency. It reduces the costs of managing huge inventories. 
Other bottlenecks in P2P include invisible costs, keeping up with changes in compliance terms and regulatory norms, inefficient management in everyday transactions, ineffective vendor communication, and more!
Intelligent automation comes as a solution to address all the limitations of the manual system. Intelligent automation or hyper-automation is the deployment of Artificial Intelligence(AI) along with Robotic Process Automation(RPA) to streamline the procure-to-pay process. 
Often, Robotic Process Automation and Artificial Intelligence based automation are phrases that are used interchangeably and are considered to mean the same. At this point, it is necessary to understand the difference between RPA and AI. 
RPA is a technology that automates repetitive, rule-based processes. On the other hand, AI-based automation is intelligent automation that understands the system and makes intelligent decisions based on data. Intelligent software also learns from the process and evolves with time. Hyperautomation is a confluence of RPA and Ai for better outcomes. 
How Hyperautomation Works?
The first step is identifying the repetitive processes in the procure-to-pay that can be automated. It is essential to understand that not all procure-to-pay processes can be automated. Hence it is necessary to identify the rule-based processes that can be automated.
These processes are automated using RPA bots.
AI and ML technologies are deployed for the orchestration of the entire process. The predictive analysis and pattern recognition features of these technologies facilitate the complete automation of the procure-to-pay process.
Hyperautomation of procure-to-pay processes enhances efficiency, builds healthy supply chains, optimizes supplier costs, and reduces errors. It ensures efficiency of scale and cost savings through centralized procurement. P2P automation offers a highly agile and robust supply chain. Automation ensures that payments for supplies are made to the supply chain vendors within deadlines and that the supplies are received from the suppliers promptly.
What Procure to Pay Processes can be Automated with RPA?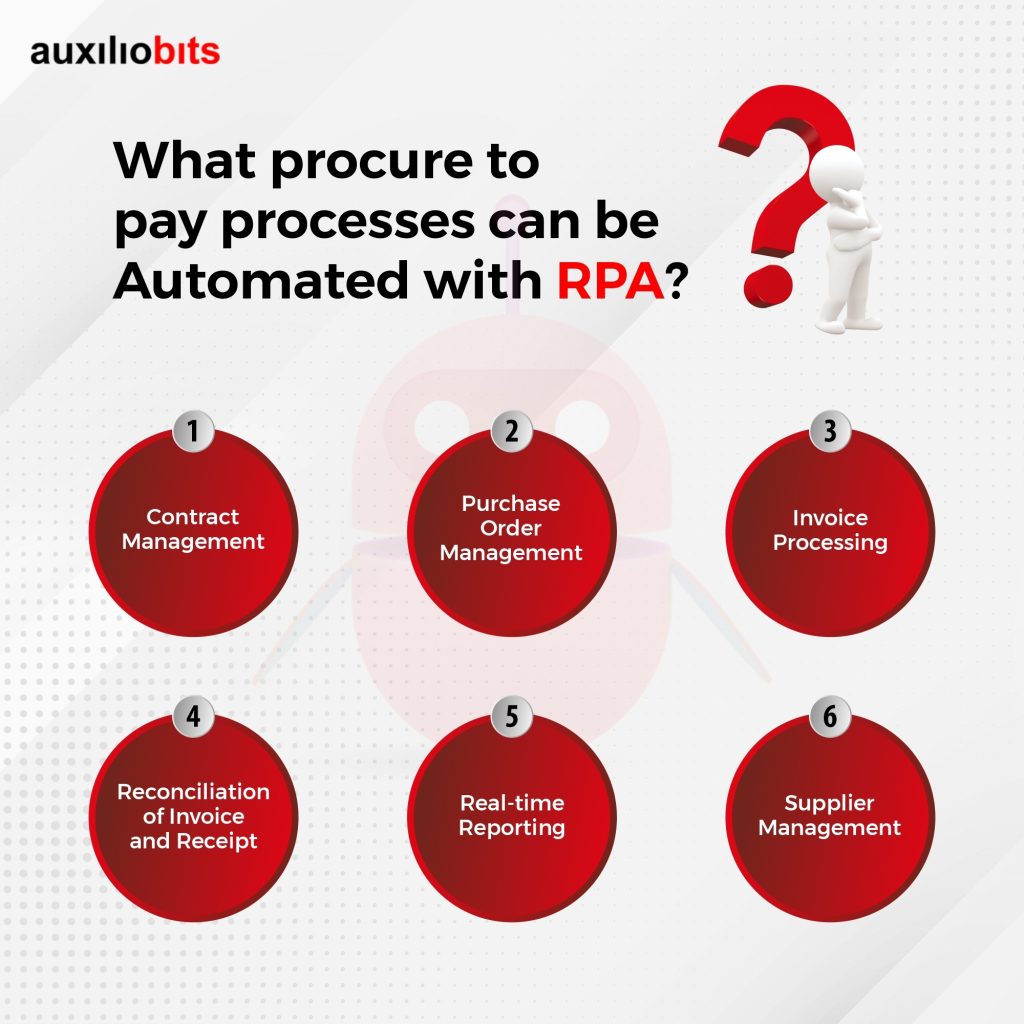 Contract administration and management across vendor and supplier value chains can be automated with RPA bots. Automation enables setting realistic milestones and establishing standard operating procedures. It also enhances the efficiency of contract management for a vast number of vendors and suppliers.
2. Purchase Order Management
RPA bots streamline the administration and management of requisitions and purchase orders with the help of repopulated templates.
Automation can also be applied to routing requisitions and purchase orders to the concerned approvers.
The requisition can be automated with emails or text with the relevant links to suppliers for supply fulfillment.
Automation also facilitates the digital storage of requisitions and orders and links them to invoices from suppliers.
RPA bots either use pre-built templates or create invoices to route them through authorized signatories for approval.
Automation facilitates the digital storage of POs received from customers. These POs can easily be linked to invoices and contracts to maintain traceability.
The invoices can be auto-routed to customers via emails and text making it easy to track receivables.
4. Reconciliation of Invoice and Receipt
Robotic Process Automation streamlines reconciliation across accounts payable and accounts receivable cycles. 
Bots also capture data in Finance and Accounting systems like SAP.
2-Way/3-way matching of digitized PO, invoices, and receipts across supplier, vendor, and customer ecosystems can be automated with RPA software.
Automation maintains healthy cash flow over a digital platform
Automation bots facilitate effective financial control with real-time reporting. Real-time reporting also minimizes processing costs and enhances operations, besides minimizing transaction delays.
RPA helps maintain high visibility, traceability, and accountability in payment and receivable cycles.
RPA can also automate supplier management. Bots facilitate new supplier search and procurement across different branches and units. 
Automation minimizes and reduces latency in the procurement of supplies through trusted suppliers.
Role of AI in Procure to Pay: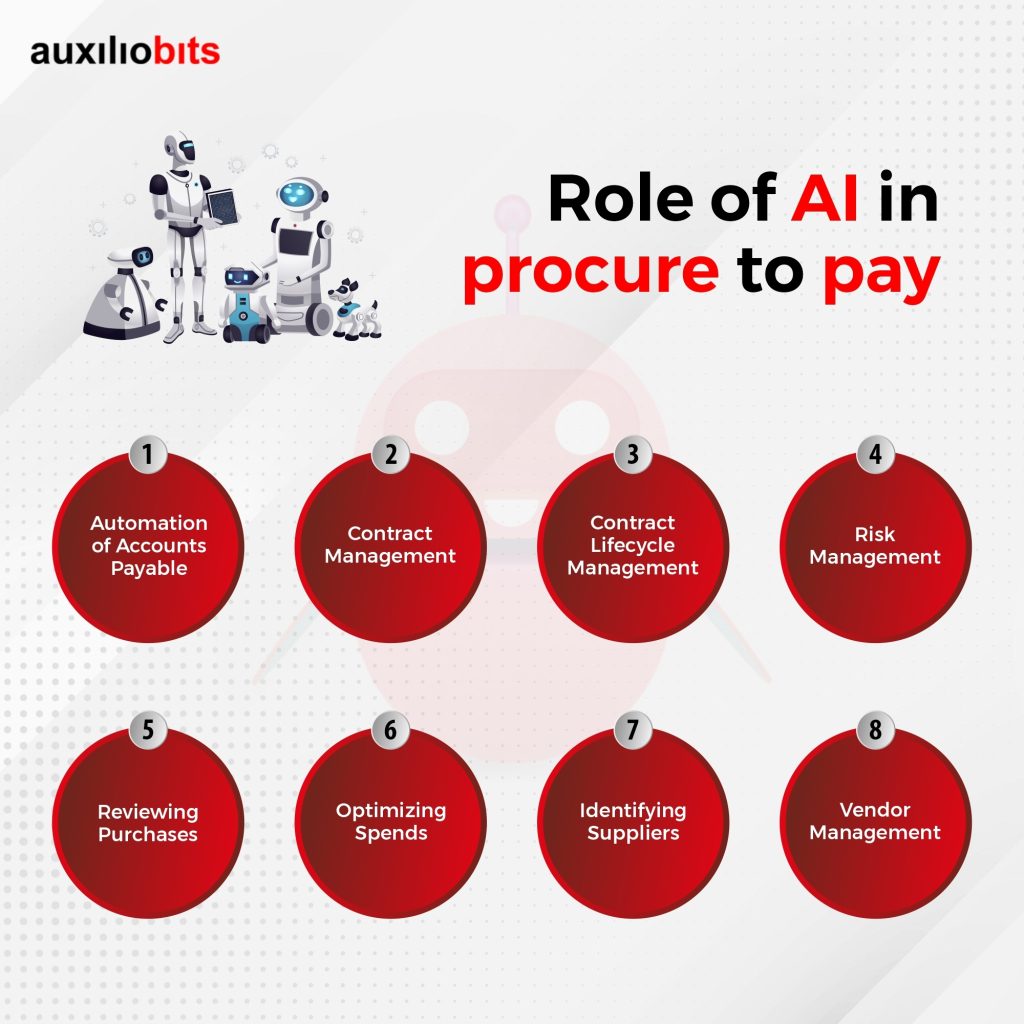 Once the different processes are automated, Ai technology can be leveraged to further enhance the efficacy of the P2P function.
The intelligent software manages complex tasks such as:
Automation of Accounts Payable: Machine Learning speeds up payment workflows and identifies frauds.
Contract Management: Natural Language Processing software scans and interprets lengthy documents in a quick time.
Contract Lifecycle Management: AI software optimizes processes such as contract generation, risk identification, and negotiation.
Risk Management: The AI software scans the P2P systems to identify risks across the supply chain and alerts risk management software in case of potential risks.
Reviewing Purchases: AI checks the status of purchases and reviews and approves POs.
Optimizing Spends: The AI software automates spend classification and vendor matching.
Identifying Suppliers: The AI software identifies, manages, and leverages supplier data to enhance and speed up the supplier identification process.
Vendor Management: AI optimizes the vendor management process by identifying the right vendors and placing POs.
$2.7 m is saved in Annual Spend Optimization.

Account payable productivity gains are in the range of $737,000

Procurement Productivity gains are estimated at $680,000

Maintenance cost savings of legacy systems are $157,000 
If you are still debating whether to automate P2P in your organization, consult the experts at Auxiliobits to guide you!
How Auxiliobits can Ramp up your Procure-to-Pay process?
Auxiliobits offers end-to-end optimization of the procure-to-pay process streamlining shared services, procurement, accounts payable, and more. We deploy digital platforms to automate procure-to-pay processes. We help businesses transform the supply value chain with intelligent automation.
We work closely with our clients to understand their automation goals and build customized automation software that fulfills the demands of the business. 
Procure-to-pay can be considered the backbone of the supply chain management of an organization. The P2P process depends on the vendors and suppliers to deliver their orders on time. Automation of P2P offers businesses a competitive edge by streamlining invoices, enhancing the efficiency of procurement and accounts payable processes, improving spend under management, reducing operating costs, and increased savings.
Call us Now for P2P Software tailored to the needs of your business!
Want to know about more processes that we automate?
Watch out for our upcoming blogs!