The pandemic has accelerated the pace of digital transformation of businesses across the globe. Automation is one of the most vital aspects of digital transformation. Businesses have understood the significance of automation in making an enterprise agile and resilient besides providing a myriad of benefits. Therefore, it comes as no surprise that "83% of IT leaders believe that workflow automation is necessary for digital transformation." Source: Kissflow.com
Automation is automating processes and workflows with the help of software bots. 
Robotic Process Automation (RPA)
RPA is the automation of rule-based processes. Bots perform repetitive tasks without human intervention. RPA relieves humans of monotonous tasks so that they can focus on tasks that require human intelligence.
Intelligent Automation is when Artificial Intelligence is used for automation. Intelligent bots can analyze data, study data patterns and make forecasts, etc. RPA and Intelligent automation are used together to hyperautomate workflows. RPA bots automate the routine processes and intelligent automation streamlines the workflows.
Automation offers benefits such as:
Eliminates human errors and enhances the accuracy of different processes.

Improves efficiency

Boosts productivity

Speeds up processes

Provides valuable insights that can be used for making business decisions.
Surely a package that offers these benefits is an attractive one and can boost the growth of any business.
While automation has the potential to boost productivity and enhance your revenues, if it is not done right, it can prove to be detrimental to your business. Many businesses in their enthusiasm to adopt automation rush through the implementation and overlook important factors to be considered. And, when they do not get the desired results they are stranded and they wonder if they were better off without automation.
Automation demands major changes in the working of different functions and it also impacts manpower and skillset requirements. If such factors are not considered, automation will not provide the desired results.
Therefore, before you decide to automate your business, here is a list of some common automation mistakes you need to be aware of and avoid:
1. Believing that you can do without IT professionals
Since low code or no code programming is used in developing automation tools, people make the mistake of assuming that they can use the tools without any IT professionals. However, the fact is that you need IT experts to ensure that the automation tools function seamlessly. Remember that an automation bot is only a tool and you will need an expert to operate the tool.
2. Not Optimizing Processes
Many businesses do not check if there is any scope for improvement in the processes they want to automate. If the processes are optimized before purchasing the automation tool, the choice of the tool will be more relevant and cost-effective.
3. Not Choosing the Right Software
There is a plethora of automation tools available in the market. Each has its specific set of features. Not all the features will be relevant to your business. It is a good idea to study the features of the different tools and compare them before making a decision to purchase. Also, make sure that you choose the software that has all the features for your specific requirements. This may not be a simple task. You can consult the professionals at Auxiliobits to help you select the best automation tool.
4. Lack of Clarity in the Type of Automation Required
When choosing automation tools for your business, you must be sure of the type of automation you require. It is easier to choose the best tool if you know whether you want to automate rule-based processes or need automation that can also analyze data and provide insights. This will help you decide whether you need RPA bots or hyperautomation tools.
You also have the option to either automate processes, and workflows, or carry out enterprise-level automation that offers a single platform for automating different workflows.
5. Automating Complex Processes
Many businesses make the mistake of automating only the complex processes and do not focus on the automation of the simpler ones. However, it is necessary to consider the automation of simple processes before moving on to the more complex ones.
6. Not Testing the Process
Whenever someone buys an automation tool, they test the tool to ensure that it is working seamlessly. However, a common mistake is that they forget to test whether automation is performing the process it is deployed for seamlessly. So, while the tool might be functioning flawlessly, it may not be providing the required outcome from the process. Hence, it is necessary to test if the process is giving the desired output with automation.
7. Focusing only on the Technical Aspects
Automation is a technical intervention but focusing only on the technical aspects may not yield the desired results. Technology can only function seamlessly in an organization if it is ready for it and accepts it. Implementing automation is not just about technology but also requires a change in mindset. If there is a fear of losing jobs among your employees, you need to address that fear. This is because if your employees are fearful they might start looking for opportunities outside. You need to educate your employees about how automation is going to impact your organization and that automation will not replace them but change their roles and responsibilities. Many a time, there is resistance from the top leaders to adopt automation. It is imperative that your top leadership is ready to accept and implement automation.
8. Not Determining the Roles & Responsibilities in the New Work Scenario
Many businesses adopt automation without focusing on the impact it will have on the staff. Some employees feel threatened by automation and might think of opportunities outside. Therefore, before adopting automation, you need to determine the changes in the job roles. With automation in place, many employees who were working on repetitive processes are likely to be moved to different roles. Therefore, it is a good idea to work out the changes expected in the organization and define the new roles and assign responsibilities to different members of the staff.
If you are feeling overwhelmed after reading about these pitfalls and feel tempted to step back in your automation journey, here's some good news for you!
You can automate your business seamlessly if you develop a strategy for automating your enterprise by considering all relevant factors.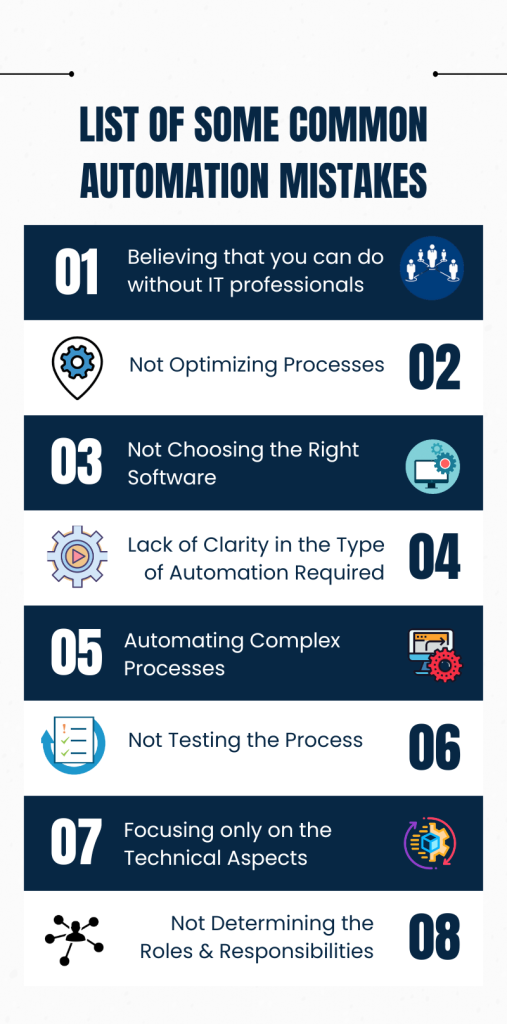 How to Implement Automation Seamlessly?
Step 1: Assess if your Organization is Ready for Automation
While the benefits of automation an extremely lucrative and you might be eager to adopt it, it is necessary to assess if your organization is ready for it. In many cases, the returns may not justify the investment in automation. Besides, the working of the organization may be such that automation may not add much value.
Step 2: Establish your Automation Goals
If your assessment indicates that your organization is automation-ready, ask yourself, "Why do you need automation?" You need to determine what you expect automation to achieve for your business. Once you have clear goals, it is easy to prepare a roadmap for automation.
When you are investing in automation, you must know whether you are achieving your goals. Therefore, you need to define metrics that will help you assess how effective automation is.
Allocating a budget for automation helps you keep your expenses on track. Make sure that you allocate a realistic budget for automating your business.
Step 5: Get Your People Ready
Before you go ahead with the automation initiatives, make sure that everyone in the organization including the leadership is convinced about the need for automation. It is a good idea to educate employees about the role that automation will play and its impacts on the different functions of the organization.
Step 6: Identify the Extent of Automation Required
Before you look for automation tools, find out what functions can be automated. This includes the identification of different processes and workflows that can benefit from automation. Also, assess the type of automation you require. In other words, which are the areas for RPA, and what areas require hyperautomation. You might also like to consider enterprise-level automation. With the availability of multiple options, it might be difficult for you to determine what type of automation is suitable for your organization. The experts at Auxiliobits can help you in choosing the most appropriate automation solutions for your enterprise. While choosing automation software, it is essential to think of scalable options that will foster growth.
Step 7: Determine the Changes in the Organization
Based on what functions will be automated, you need to assess how the roles and responsibilities will change in the organization. It is likely that bots will replace humans for many repetitive processes like manual data entry, etc. So, you must define the changed roles and responsibilities before you automate your business.
Step 8: Choose the Best Vendor
There are several vendors who offer a variety of automation tools. But not all tools serve the purpose of each organization. Hence, it is recommended that you study the features of different tools and choose the best one. Compare the cost of the software offered by different vendors and select the one that fulfills the specific needs of your organization.
Test the software to ensure that it functions seamlessly. Also, check if automation provides the desired outcome for the processes/workflows where it is installed. It is recommended that you test the efficacy of the software before you adopt it.
Step 10: Implement Automation
Automate different functions as planned.
Check if automation is effective in reaching the goals established in step 2 with the help of the KPIs identified.
So, if you are looking to reap the benefits of automation, avoid the pitfalls and strategize the automation journey. We, at Auxiliobits, are always at your service to make it happen!
Call us Now!
Like what you read?
Stay tuned for more blogs on Automation!