Digital transformation has made inroads into all facets of our existence. Whether it is daily tasks like shopping, banking, etc., to industrial processes, everything is going digital. Digital transformation helps businesses stay agile in a dynamic marketplace. Digital transformation is propelled by automation. Automation is set to disrupt the way traditional industries have gotten accustomed to working.
Automation software such as Robotic Process Automation (RPA) has found wide acceptance across several verticals. Besides RPA, low code or no-code tools and iPaaS are technologies that help automate workload.
RPA is an extremely popular technology for automating several processes. RPA has been around since 1950. It has slowly and surely made its way into a myriad of industrial sectors providing automation of various repetitive tasks and enhancing productivity and quality of output. However, it is limited in its scalability at the enterprise level. Besides, RPA is also limited in the types of processes it can automate.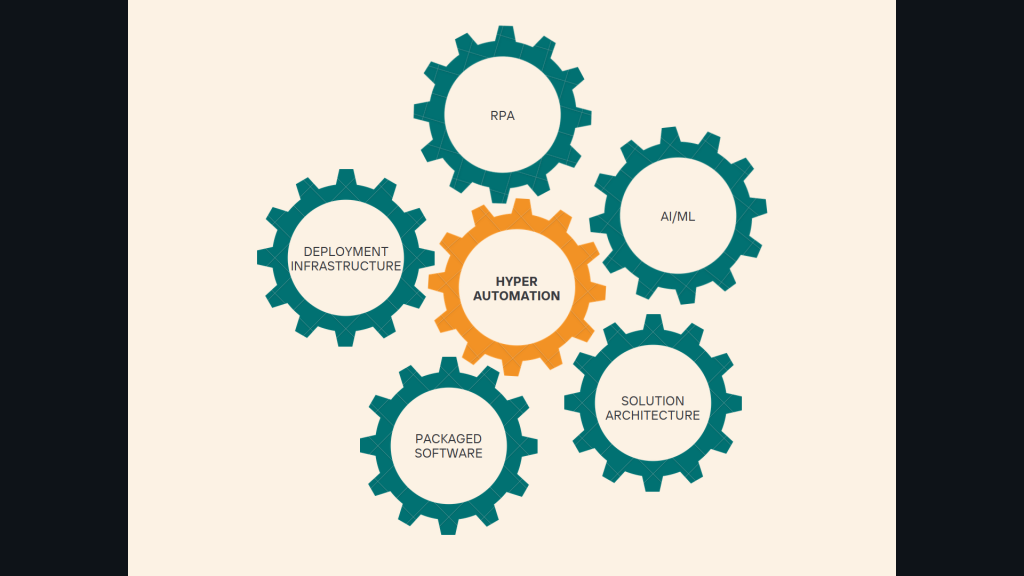 Hyperautomation overcomes these shortcomings of RPA by providing a framework for effective deployment of different automation technologies. In a hyperautomation model technologies such as RPA may work separately or in tandem. These technologies are augmented by AI and ML.
Hyperautomation can be understood as "automating automation!" It is an approach that enables organizations to identify the maximum number of processes that can be automated and deployment of tools such as RPA, low-code Application Platforms (LCAP), AI, and virtual assistants. These tools are also known as process-agnostic software and they are the key enablers in hyperautomation.
Hyperautomation has RPA at its core which is highly efficient in mimicking rule-based tasks. The automation possibilities are enhanced with AI, process mining, analytics, and other tools. It is an integrated approach that combines several technologies and business management tools. The integration of various tools and technologies facilitates end-to-end process redesign, tracking, and delivering much higher value and impact.
It is an advanced approach to automation that saves costs, boosts productivity, and enhances efficiency. It also facilitates the collection and deployment of the data generated through digitized processes.
Hyperautomation is an approach that loops humans into the process. Humans and technologies collaborate to automate processes and systems for better outcomes.
How does Hyperautomation Work?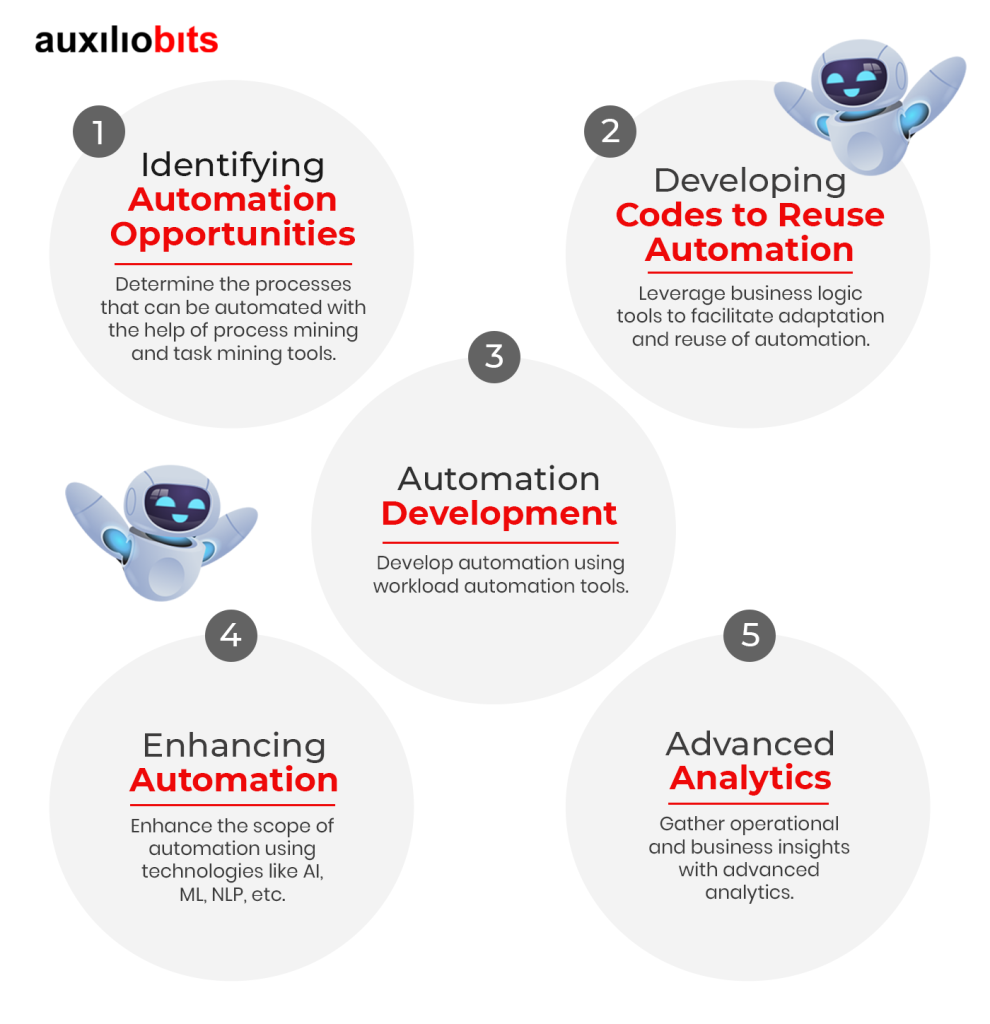 Steps for Hyperautomation include:
Step 1: Identifying Automation Opportunities
Not all processes in an organization can be automated. Therefore, the first step is identifying the processes that can be automated. Various process mining and task mining tools are used for this.
Step 2: Automation Development
Once the processes are identified, tools such as workload automation tools, RPA, low-code/no-code tools, and iPaasS for integrations, are used to build automation.
Step 3: Development of Codes to Reuse Automation
Business rules management, business process management, and decision management automation may need the reuse of codes. Business logic tools are used to facilitate the adaptation and reuse of automation.
Step 4: Enhancing Automation
The scope of automation is enhanced with the help of technologies such as AI, Machine Learning (ML), Natural Language Processing (NLP), optical character recognition, virtual assistants, chatbots, and more.
Step 5: Advanced Analytics
Advanced analytics are deployed to gather operational and business insights. This helps to assess the performance of hyperautomation and build the roadmap for the future.
Several technologies help in the implementation of hyperautomation.
An Overview of Technologies Used in Hyperautomation
RPA

: Robotic process automation is the foundation on which hyper automation is built. RPA automates different routine and repetitive tasks using robots. It is one of the most effective technologies that facilitate digital transformation.
Process Mining: It helps discover, monitor, and enhance real processes. It integrates RPA to automate process discovery, conformance checking, and other advanced analytics relevant to the different business processes.
Integrated Platform as a Service(iPaaS): iPaas facilitates the integration of software applications working in different environments. iPaas speeds up the development of integration flow with the help of pre-built connectors and business rules.
AI: AI helps augment the automation of the robots' abilities and various processes. Some examples of the application of AI include case management, contract management, legal processes, and more.
Different types of AI features play a vital role in hyperautomation:
Optical Character Recognition(OCR): OCR extracts text from images and documents. OCR works in tandem with RPA to automate a high volume of operational business processes. It is an ideal choice for organizations that are dependent on large volumes of paperwork.
Natural Language Processing(NLP): NLP works with RPA to help organizations enhance the customer experience. NLP identifies, extracts, and analyzes structured, unstructured, and semi-structured data. 
Chatbots: Chatbots leverage NLP to interact with users. They understand the needs of the users and provide a customized response to their queries. Since the chatbots answer most of the routine queries of users, the employees of the organization can focus on critical customer requests.
Machine Learning(ML): It provides a business context to the tasks automated by RPA. ML leverages historical data to build a knowledge base that can help in future decision-making. It improves overall productivity.
Intelligent Business Process Management(iBPM): iBPM Suites facilitate automating tasks within different processes and coordinating the processes. They integrate different processes into a single consolidated platform that entails aligning bots, applications, and people to ensure seamless implementation of automation.
Why Hyperautomation is a Must in the Current Scenario?
The COVID-19 pandemic has shown us that two vital factors for an organization to survive in adverse circumstances are resilience and agility. By automating various processes and systems, you save the time of your employees who can devote this time to building strategies to cope with adversities. Industries across the globe have suffered productivity issues due to reduced workforce, capacity limitations, and more. Hyperautomation addresses these issues by automating and accelerating repetitive tasks.
Digital transformation supported by automation help an organization adapt to the dynamic marketplace.
Offering a personalized experience to customers is the need of the hour. The technologies used for hyperautomation facilitate enhancing the customer experience. This directly boosts the ROI of the business.
An intelligent cognitive input is imperative for industries that have several disparate legacy systems and a variety of intermediate players and processes. Hyperautomation in such industries provides better decision-making and delivery. 
Hyperautomation saves cost, effort, and time spent on various routine procedures. A survey by Deloitte estimates that hyper automation provides an average cost reduction of 22% in 3 years. (Source: https://www2.deloitte.com/content/dam/Deloitte/in/Documents/technology-media-telecommunications/in-hyperautomation-the-next-frontier-noexp.pdf)
Many organizations are skeptical about using hyperautomation because of the cost involved. No doubt the set-up costs of hyperautomation are high. However, in the long run, it saves a lot of expenses and provides a great ROI. A study by Deloitte reveals that Hyperautomation boosts the ROI by 27%. (Source: https://www2.deloitte.com/content/dam/Deloitte/in/Documents/technology-media-telecommunications/in-hyperautomation-the-next-frontier-noexp.pdf)
Hyperautomation is here to stay. Any organization can implement hyperautomation and benefit from it. Hyperautomation offers businesses a competitive edge by enabling them to keep up with demand and replace obsolete systems with modern automated systems.
Auxiliobits is one of the leading providers of hyperautomation platforms. Our team provides custom hyperautomation solutions to businesses that are aligned with their goals. We provide a seamless implementation of hyperautomation to your existing setup. 
Stay tuned in to find out what shortcomings of your business can be overcome by automation!