Healthcare professionals face the herculean task of providing the best medical care in the shortest time at the lowest cost while managing administrative tasks, record handling, compliance, and more seamlessly. Healthcare service providers are required to process large volumes of paper and paperless data quickly without errors while tending to patients. The immense workload is very difficult to manage for anyone. Therefore, fatigue and burnout are quite common among healthcare professionals. The entire gamut of tasks they need to perform impacts their efficiency. This could impact patient care and patient experience negatively. 
Technology has made a foray into the healthcare sector enhancing the quality of patient care. Telemedicine, video conferencing, etc. are some technologies that are revolutionizing how healthcare functions. Despite technological advancements, manual document processing in healthcare continues to be a part of the ecosystem. 
Large volumes of administrative and patient data need to be communicated from provider to provider. This communication is the first interaction between the patient and the healthcare service provider. A seamless and quick flow of data facilitates faster decision-making and enhances revenues and baseline margins besides enhancing the patient experience.
Shortcomings of Manual Documentation:
In manual systems, medical staff copies and transcribe medical findings from physical files to the patient record system. This task is tedious and prone to human errors. While minor errors can be a nuisance for the administrative process, other errors can prove to be costly for the patient.

Clinicians need to scan through paper reports to identify critical data points. These data points may be hard to find in the numerous pages of documentation. This can waste the healthcare provider's time and delay the treatment of patients. The simple solution for this problem is to highlight important data. However, legacy systems lack the feature to highlight causing problems for clinicians. In addition, these documents may miss some vital details that could lead to errors in diagnosis and treatment.

Monotonous tasks like documentation are not only time-consuming but also tedious leading to burnout of administrative staff responsible for it.

Paper-based communication restricts the growth of healthcare service providers because it complicates data management as data points increase.

Healthcare data can facilitate population health management. However, paper-based data cannot be leveraged for data aggregation, analysis, and formulation of insights to enhance the quality of patient care. Also, the data cannot be extrapolated for improving population health management.
This is where Automation Steps in!
Automation software streamlines all document-heavy processes like patient intake forms, ID cards, lab forms, medical records, claims processing, and more! Bots can identify and extract relevant data from documents with minimal human intervention. They facilitate easy access to data by validating and updating the data in Electronic Health Records or EHR systems. AI-based medical automation eliminates errors in data entry, provides information from disparate data sources on a single platform, and includes features to sort, highlight or leverage data in different ways.
Intelligent Document Processing (IDP) is one of the most extensively used document automation solutions. It facilitates extraction and verification of unstructured data in bulk from different sources such as the medical history of patients, discharge summary, etc.
IDP uses different technologies to provide end-to-end documentation automation. Some of the technologies used are Robotic Process Automation (RPA), Artificial Intelligence (AI), Machine Learning (ML), Natural Language Processing (NLP), and computer vision.
IDP Document Processing goes through the following Stages:
Step 1: Unstructured documents are uploaded to the IDP platform.
Step 2: To facilitate better image extraction, the quality of the uploaded documents is enhanced by pre-processing them. Pre-processing entails image adjustments for noise cancellation, image sharpening, etc. 
Step 3: The computer vision algorithm with OCR/ICR captures the data from these documents. 
Step 4: ML algorithms auto-classify and index the extracted data.
Step 5: In the next step NLP along with a deep learning network, extracts relevant data from the previously captured data. 
Step 6: The data is verified and validated with the help of triangulation logic and business logic.
Step 7: The last step is uploading the data to specific applications such as ERP, SAP, mail, messages, etc. The data can easily be downloaded by the staff in excel directly if required.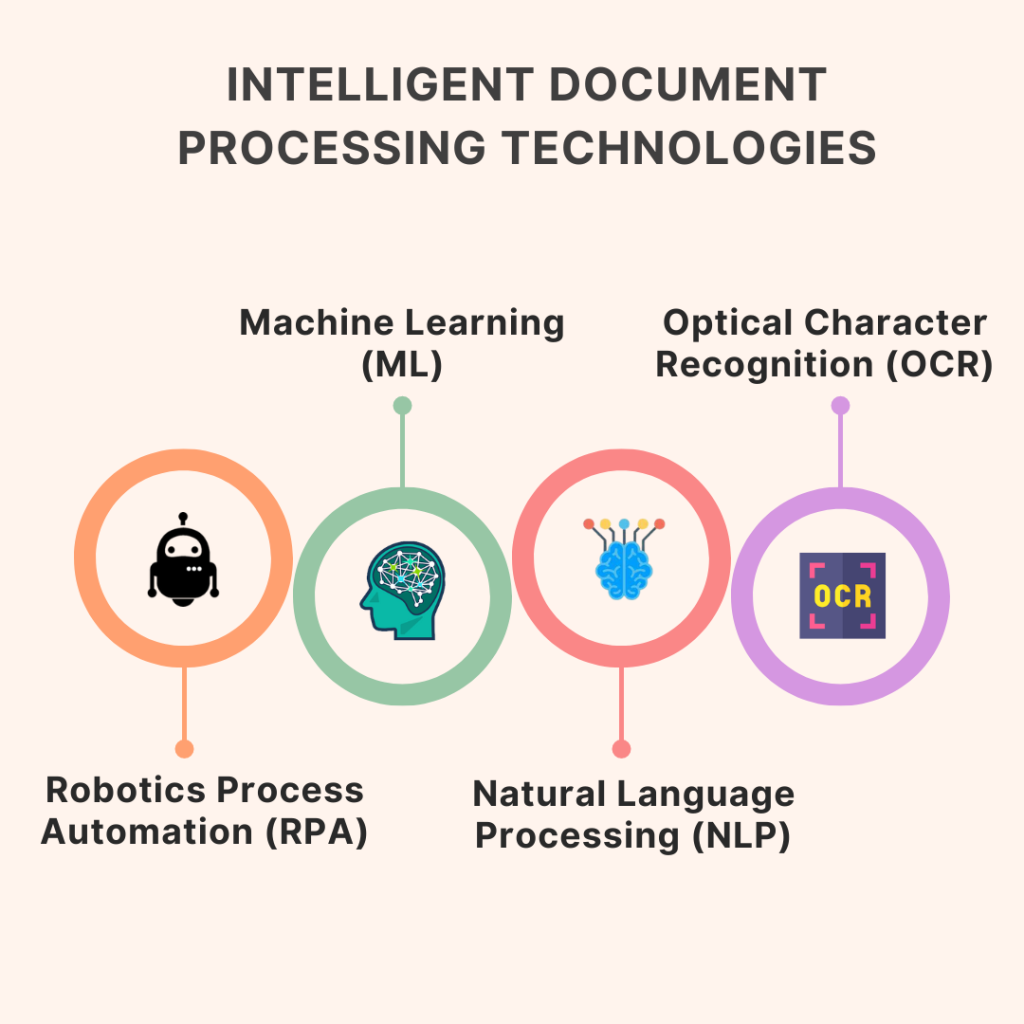 Why do Healthcare Systems need Intelligent Document Processing?
Minimizes Operating Costs:
IDP reduces the need for dedicated staff for documentation-related back-office functions. This reduces labor expenses. Automation also minimizes other operational expenses such as paper costs, printing costs, error reconciliation costs, etc. Data reveals that IDP can reduce operating costs by 30% year-on-year.              (Source: Nividous)
Offers Customized Workflow:
IDP helps customize the workflow based on the use case. The workflows established do not require any specialized coding skills but provide an easy select-and-use option.
IDP performs operations with very high accuracy minimizing all human errors. IDP can achieve a 99% accuracy rate. (Source: Nividous ). Human intervention may be required to reconcile exceptions. Once the reconciliation is complete, the ML algorithm replicates the reconciliation for other exceptions.
Facilitates Easy Accessibility of Data:
IDP usually allows data storage in the cloud or Edge-based architecture. This enables users to easily access relevant data with a single click at any point in time. This feature is extremely useful during emergencies when data may be required in a quick time.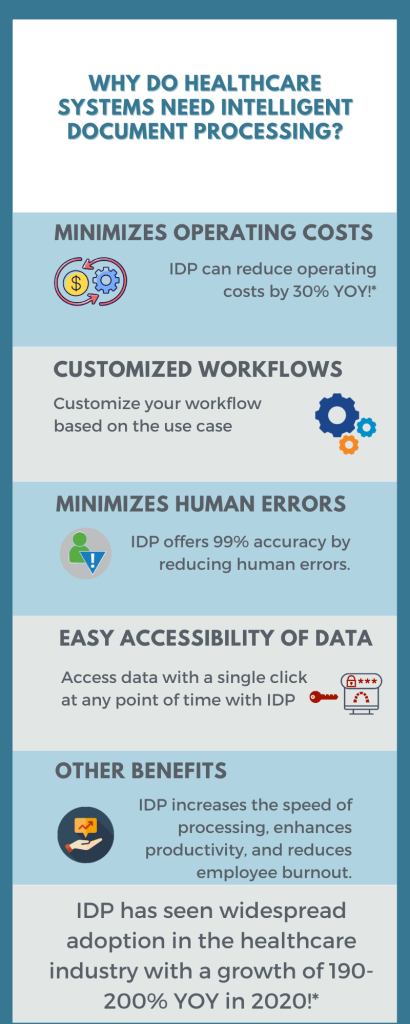 These are some of the reasons why healthcare professionals are leveraging IDP. Besides these, IDP increases speed of processing, enhances productivity, and reduces employee burnout. As per data, IDP has seen widespread adoption in healthcare the industry with a growth of 190-200% YOY in 2020. (Source: Nividous)
Following is a Use Case for Automated Document Management:
AccuHealth offers document management services to clinics through portals such as eCW, Practice Fusion, etc. Their clients were facing issues in manual document management for large volumes of data to be managed on a daily/monthly based.
AccuHealth developed Intelligent automation software that could manage patient data and documents seamlessly. Automation bots process patient vital reports and determine the type of document to be managed. The report is updated in the respective patient records.
Intelligent automation greatly reduced the time spent on processing reports and enhanced the efficiency of the process.
If you are looking for automation in healthcare for your facility, choosing the best one can be confusing because of the availability of numerous automation platforms. It is essential to understand the features of each platform and the difference between them. The price of the software is another important factor to consider because automation software is expensive. Also, it is recommended that you choose software that integrates easily with your existing systems. 
We, at Auxiliobits, make the process of selecting automation software easy for our clients. Based on several years of experience in providing automation solutions to healthcare professionals, we have the expertise in identifying an automation platform that is the best fit for your facility. Our professional team is not only knowledgeable about automation technologies but also has an in-depth understanding of healthcare systems.
Connect with the experts at Auxiliobits to streamline your documentation process with the best automation solutions!
The speed of medical care is directly proportional to the speed at which data moves. Therefore, automated data processing helps turn information into action quickly and effectively. Automated documentation helps clinicians make informed decisions based on data to enhance the quality of care and speed up recovery time. Automation also helps human resources that can offer a more humane interaction to the patients. Digital data can be aggregated and analyzed easily to develop healthcare systems that benefit both individual patients and patient populations. All these factors not only make the healthcare providers happy but also delight patients.
Want to know more about how automating healthcare workflows can benefit you? Wait for our upcoming blogs!