One of the changes that technology has brought about in the healthcare sector is an interconnected healthcare system wherein a team of specialists is responsible for a single patient. In an interconnected system, laboratory reports are exchanged in complex patient pathways.
Lab reports are not limited to immediate patient care, they can also be used for healthcare research studies, etc. The data can also be leveraged for hospital management and resource allocation. Patients may also need their lab reports to proactively manage their health conditions.
With the advent of the internet, lab reports and communication became paperless. However, the process was not fully automated. It required humans to perform several functions.
In manual systems, the staff needed to navigate each patient one by one and download individual test reports. After this, they had to access the portal where reports had to be uploaded. They needed to search the patients one by one and upload the matching reports. The process details also needed to be entered in Google Sheets. They also needed to set the date and time of the upload for each patient. Manual processes were time-consuming, tedious, and prone to errors. Also, manual processes could not handle large data volumes.
Healthcare has become advanced and extremely specialized. Manual systems lack the sophistication to meet the growing demands of the healthcare sector.
In today's healthcare ecosystem, laboratory measurements of a patient are no longer conducted in a single lab. Rare analyses are conducted in specialized labs while point-of-care tests including continuous sensors perform additional measurements. Laboratory results are exchanged and aggregated with the help of Electronic Health Records (EHRs). These records are transmitted electronically and are available at the point of treatment. Besides medical specialists, these records are also accessed by Machine Learning (ML) algorithms that receive lab reports and analyze them. These algorithms enhance the quality of treatment by accurately predicting disease or disease progression.
Laboratory Information Management Systems (LIMS) software overcomes the shortcomings of manual systems. It manages customer service, invoicing, and maintaining records of samples and tests undertaken by labs with minimal human intervention.
Barcode labeling

Automated and customized report delivery

Specimen tracking

Reflex testing

Electronic order entry

Billing system interfaces

Custom report formatting

And more!
The next stage of lab integration is EMR or Electronic Medical Record, which is essentially a digital health record of patients' health information. EMR is a comprehensive system that includes functions such as charting, patient portals, e-prescribing, order entries, and decision support.
Healthcare systems have to manage large volumes of patient data. This data is stored and accessed as and when required. Manual reports are prone to errors, and they can easily get mixed up or lost. EMR solves this problem by offering digital storage. The digital data includes patient treatment records, charts, test results, etc. The data can be accessed 24/7 by clinicians and patients.
For lab integration systems to function seamlessly, practicing doctors, clinics, and outpatient facilities must integrate ordering, reporting, and diagnostic systems into the electronic medical record (EMR) systems used in the facility. Clinical and diagnostic labs connect with the EMRs to maintain an effective workflow for orders. This ensures timely and accurate test results.
A single EMR can integrate with multiple systems such as:
Laboratory Information Systems 

Clinical Trial Management Systems

Medical Billing

Medical Device Integration

Telehealth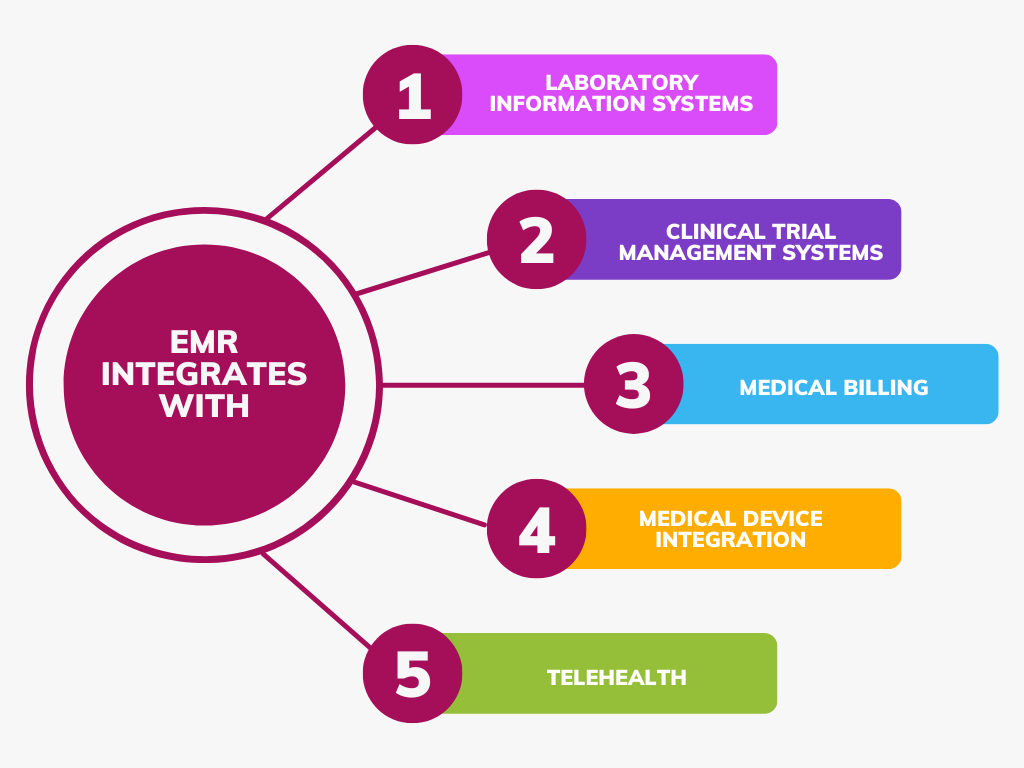 EMRs facilitate real-time data access and analytics and reduce human errors. Quick and easy data accessibility coupled with accurate analytics pave way for a better quality of patient care.
An integrated system facilitates a seamless interface that links different clinical laboratory departments with other departments throughout the care provider network. 
Lab integration software is built around questions such as what data is used, by whom, and for what purposes, etc. This makes it cross-functional and enhances operational efficiency. An integrated system works without human intervention. Lab integration software streamlines the exchange of orders, requisitions, and reports between the lab, physicians, relevant staff, and patients.
Different work processes are connected across various instruments and flow seamlessly across any operational systems needed to support the work. Automation enhances the quality of data and operational systems share critical data that can be accessed by other systems as needed. Lab integration facilitates the generation of standardized lab reports that contain all the necessary information along with the interpretation of reports.
Features of Integrated Laboratory System:
Facilitates seamless data exchange in clinical environments.

Integrates different modules on a single database to generate consolidated reports.

Enhances consistency between systems.

Facilitates timely delivery of test results.

Enables real-time results reporting.

Provides flexibility in order entry.

Facilitates interoperability.

Automates workflows.

Integrates different instruments and devices seamlessly.

Multiple instruments can be viewed from a single panel.

An integrated system can support increased volumes without the need for more staff.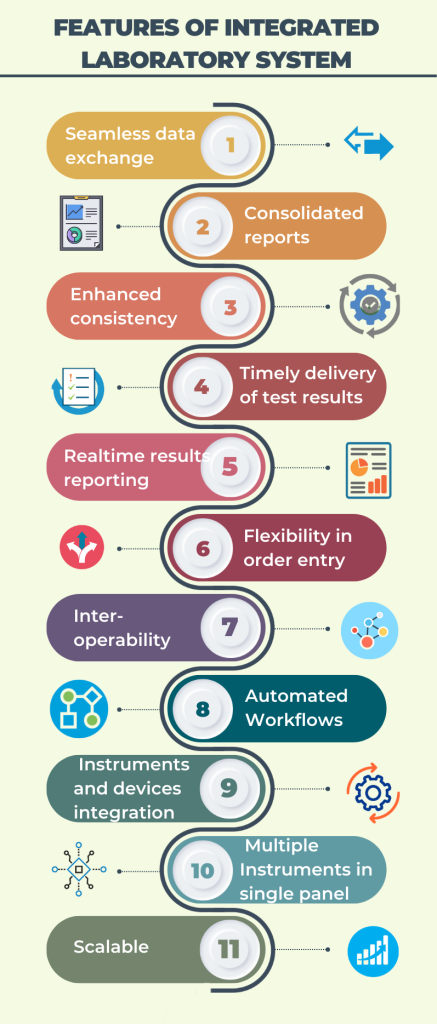 Besides these, there are several other ways in which lab integration streamlines the process of report generation, access, data analysis, etc. These aspects of lab integration provide benefits such as long-term cost-savings, reduced errors, enhanced quality of services, elimination of lags, etc. All these features lead to a better patient experience.
Technology Trends in Lab Integration:
Automation technologies such as Robotic Process Automation (RPA) streamline several rule-based manual processes and enhances efficiency. Robotics facilitates the standardization of processes. Automation and Robotics work together and enable lab functions like analytical laboratories to provide a more efficient and cost-effective service to their consumers.
Artificial Intelligence (AI) and Machine Learning (ML)
The availability of data and data processing is central to lab integration. Data can be leveraged for medical research and is a key factor in providing better patient care. AI gathers and analyzes data and provides insights that help in better decision-making. Machine Learning algorithms can be trained to identify data patterns and perform several tasks with precision at a high speed.
IoT can optimize several aspects of day-to-day operations that are conducted in a lab. IoT enables easy data management, greater traceability, and automated metadata recording. These enhance the operational efficiency of laboratories and facilitate compliance. LIMS and cloud computing reduces the risk of damage from unexpected events.
IoT also helps in collecting patient data while keeping patients in their home environment. Remote monitoring of health parameters enables healthcare service providers to offer quality care. It also helps in attending to emergencies without any delay.
If your manual systems are consuming a lot of your time and wasting man-hours, it is time to consider lab integration software for your services. There is a myriad of lab integration software available in the market. However, each software has different features. Hence, you will need to choose the software that best meets your needs. 
Following are some questions to ask while selecting a lab integration software:
Can the software be customized to your specific needs?

Is it possible to integrate the software with the existing systems?

What is IT, infrastructure, and

other requirements?

What are the other expenses in addition to the cost of the software?

Will the vendor provide training to the staff?

Will the vendor provide after-sales support?
Lab integration software is expensive. Hence, it is recommended that you consider all aspects and compare the features and prices of different software options. You can consult the experts at Auxiliobits to help you choose the best software for your healthcare facilities. Our professional team has several years of experience in healthcare automation solutions. We work with our clients to understand their specific needs and suggest cost-effective automation solutions.
Lab integration not only enables interoperability but also facilitates seamless and efficient management of diverse laboratories. It helps caregivers to provide better services to their patients and minimizes their operational and IT footprints. Lab integration also facilitates seamless expansion and boosts revenue.
Besides lab integration, several other healthcare processes can be automated. Read our blogs to know more about how automation is revolutionizing the healthcare sector!