Automation, in the context of the manufacturing industry, is the use of technologies to automate production processes. Today, the producers of goods, foods, beverages, clothing, and other bulk products rely on computer-controlled machines, from start to finish and the end goal is to achieve greater efficiency with improved production capacity and reduced costs.
By 2026, the global manufacturing automation market size (valued at 170 billion USD in 2019) is expected to grow to 297 billion USD. (Source : Eagletechnologies )

The adoption of new technologies in manufacturing plants contributes to high precision and taking over repetitive tasks from human workers. Depending on what is produced and the equipment that is needed for production, the manufacturers may implement different automation technologies.
According to a report by McKinsey & Company, RPA implementation in the manufacturing industry can lead to significant cost savings for businesses, with up to 20% labor cost deductions. (Source: Mckinsey)
Robotic Process Automation in manufacturing automates rule-based operations to deal with everyday tasks, brings innovation, and expedites process completion with precision. Besides managing production or shipping processes by integrating bots, the manufacturing sector can be benefitted from administrative tasks as well including data entry, credit checks, and preparation of reports. 
Key Reasons for RPA Implementation in the Manufacturing Line
To manage the unbalanced workload:
Ideally, assigning workers a single task in the production process is more efficient than expecting each worker to create the product from beginning to end. The automated assembly line in place with RPA can help save a lot of time and effort for employees by completing a time study of interlocked tasks and managing the workload to improve efficiency.
To meet the changing demands:
There are certain aspects that can lead to over/under production including consumer trends or economic uncertainty. However, the solution to meet the varying demands is rebalancing the line with RPA systems. With such flexible systems in place, the entire production capacity can be rebalanced to meet the changes in demand. 
To enhance efficiency and productivity:
Traditional processes in the manufacturing sector are prone to errors and human mistakes. However, automated technologies operate more efficiently and enable manufacturers to produce goods faster. The increased speed that the automated machinery delivers reduces cycle time which plays a key role in improving revenue.
Automating the production line can decrease the overall production expense by making labor cuts wherever possible. RPA implementation can also cut production costs by minimizing manufacturing errors and rework. Moreover, RPA systems are flexible enough to be integrated with the existing systems that allow smooth digital transformation with no coding required.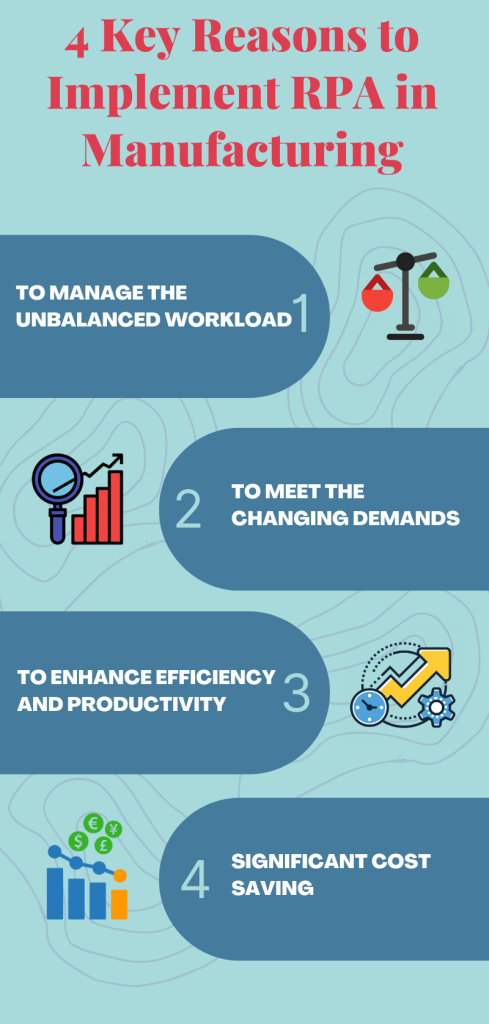 Use Cases and RPA Examples
Material Requirements Planning
Irrespective of the industry, material requirements planning is the most crucial task among all aspects of manufacturing. An RPA deployment allows managers to schedule purchases efficiently and avoid production delays. The process sorts all queries related to the manufacturing process including what and when the materials are required. It also helps manufacturers quickly respond to the increased demand that as a consequence leads to revenue growth and stability.
According to a report by Capgemini, the manufacturing sector could save around $300 billion a year by automating key tasks like supply chain management, customer returns, updating customer databases, and more. (Source: Capgemini)
In both discrete manufacturing and process manufacturing, RPA eases the process and removes the uncertainty that comes over inventory, and reduces the time needed to manage it.
Work order is another key element in the manufacturing process. It covers the inside information that specifies the number of goods that need to be produced along with the materials needed to produce them. 
RPA can help in the process completion by allowing manufacturers to get updates in real-time, create schedules, give out more work orders, and closely analyze expenses related to the manufacturing project.
Ideally, manufacturing any product requires a comprehensive list including the quantities of raw materials, intermediate assemblies, sub-assemblies, and other components. RPA implementation in the process can assist manufacturers get accurate and detailed reports about billing, material requirements, and production history. Besides, RPA can also be used to automate certain HR tasks, shipping, sales & marketing that ensure every aspect is carried out smoothly. 
Invoice Processing is the true pain for many businesses; however, help is at hand due to RPA implementation. Automating and streamlining the key cost areas of invoice processing with RPA can result in significant savings.
According to a recent report, businesses, on average, have 75% lower invoice processing expenses than their peers. With a typical return on investment (ROI), it is a worthwhile investment for any business processing invoices a month. (Source : Emergenresearch )
Inventory management control helps maintain an optimum level of the inventory and its investment. Real-time monitoring is the only way to ensure that demands can be met. With RPA, it is a smooth process to automate inventory monitoring, product reordering, and even stock levels whenever the levels go below a set value.
With minimal intervention, RPA implementation can create a detailed audit trail which further helps in removing disruptions within the supply chain for process improvement.  
RPA system can help reduce around 60% of the manual effort, thereby allowing employees to sort customer queries quickly. (Source: Marketsplash) . The right communication approach between customers, vendors, and the internal workforce usually requires more manual effort. However, RPA can streamline the process by managing email campaigns, downloading attachments, and responding to customers timely.
Data migration is a common activity in businesses that are going through an ERP upgrade, integration, or implementation.
Being methodical and rule-based, RPA is considered the best choice for data migration projects. The system can expedite the execution and make it error-free, thus bringing more productive consequences in the data migration. In the context of extract, transform, and load (ETL) methods, RPA's UI-level integration ensures no harm to the underlying systems.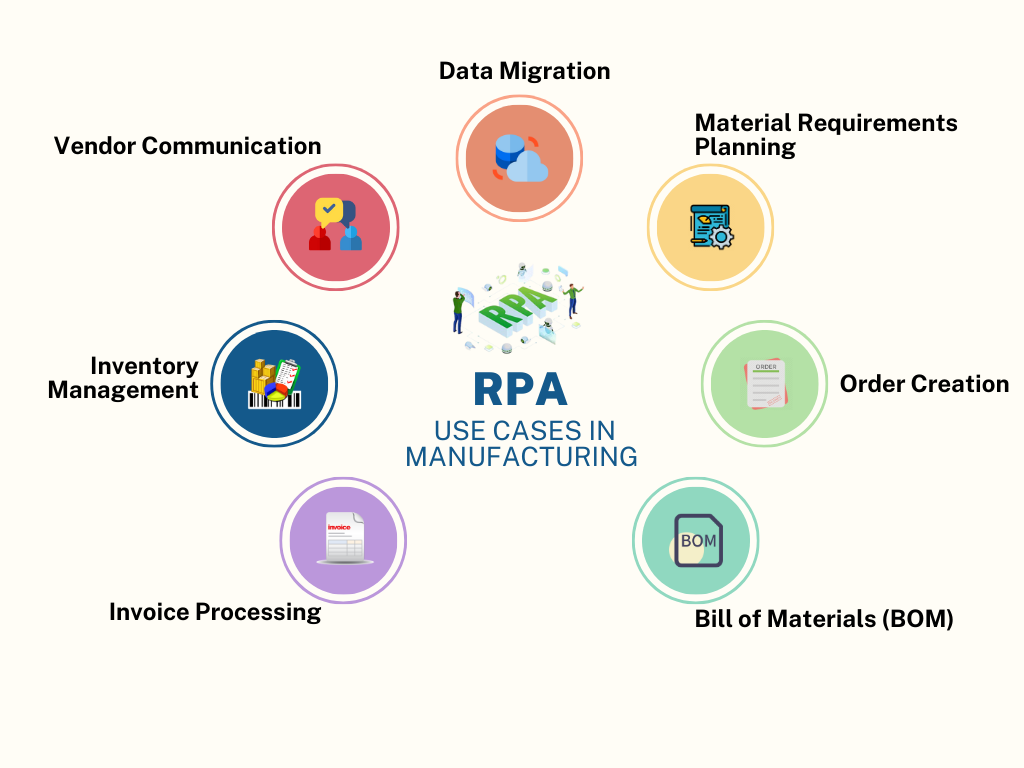 Beyond RPA: Other significant technologies in Manufacturing
As manufacturers look for ways to streamline their processes and increase efficiency, the significance of automated technologies has become clear. From significant cost savings to improved productivity, technologies like RPA, Artificial Intelligence (AI), and Machine Learning (ML) are transforming the way businesses operate.
A recent report by Deloitte found that RPA is at the top of the list of current workflow automation technologies with 30% adoption while Artificial Intelligence is the least at 18%. (Source: www2.deloitte.com)
The high flexibility aspect of RPA fits in with a wide range of interfaces, systems, and data types. When combined with RPA, other technologies can enable the automation of more complicated tasks while meeting all maintenance needs. Though manufacturing processes are unique in their way, the best solution to most cases is comprehensive automation that uses a combination of RPA, AI, and other technologies.
Though RPA implementation involves investment in technology, it contributes to more productivity which as a result enhances real-time production for the business.43% of manufacturers are already experiencing the benefits of Robotic Process Automation while 40% reveal interest in harnessing RPA to save time and transform workflow. ( Source: Nividous)
The potential of RPA in the automation of different tasks can be highly beneficial for the manufacturing sector. Any manufacturer who has not automated the production line yet should turn to RPA implementation for streamlining operations and addressing labor, time-intensive processes.
Connect with the professionals at Auxiliobits to select the best RPA software for your manufacturing business.  Our team recommends cost-effective automation solutions that integrate seamlessly with your existing systems.
Stay tuned for more informative blogs about the RPA revolution!