Supply chain management is a vital part of a manufacturing cycle and an optimized supply chain has the potential to boost the efficiency and reduce time-to-market. This not only enhances the ROI but also offers a better customer experience. When it comes to end-to-end supply chain management, finding cost-effective ways to handle sourcing and inventory is absolutely critical.
According to the 2019 report by Information Services Group, more than 72% of companies will use Robotic Process Automation in their Supply Chain by the end of 2025
By implementing RPA solutions, any organization can program bots to manage inventory and supply chains that are traditionally performed by human staff. This helps businesses work efficiently, streamline logistics management, and certainly become more effective in handling sourcing and supplying management. This automation is no longer a piece of science fiction fantasy, in fact, it is real and it is happening all around us.
How to Overcome Supply Chain Management Challenges?
Over the course of the Covid-19 pandemic, some sectors witnessed a sudden spike in demand and other events that affected the demand served by a supply chain. The sustained increase in demand has been witnessed in different categories such as home improvement supplies, home furnishings, and other supplies required for remote work. Also, medical supplies such as masks, disinfectants, and personal protective equipment were in high demand to respond to the pandemic. On the flip side, the demand for automobiles, luxury items, and office supplies dropped automatically.
The 19-pandemic highlighted different key challenges faced by businesses:
Poor distribution system

Inadequate Infrastructure

Dispersed market

Lack of diversification of suppliers

Manual data processing

Old & outdated formats for interaction with counterparties
According to the International Journal of Logistics Management, Supply chain challenges resulting from the Covid-19 outbreak, effective RPA solutions can mitigate the supply chain challenges and bring short-term and long-term plans to improve supply chain resilience.
International complexity, economic pressures, and existing multiple channels have all affected Logistics Supply Chain Management. Such issues come from many areas, and a lack of accountability for minimizing them can lead to increased operational expenses. 
Analysts believe that in the short and longer term, more companies will support integrating innovative solutions using the Robotic Process Automation system. According to Gartner, leaders in the supply chain rankings see RPA solutions as an opportunity to overcome fluctuations in demand.
What can RPA do for Modern Supply Chain Management?
1. A responsive supply chain
Modern businesses are no longer restricted to a single channel to reach out to customers. It becomes essential for organizations to embrace RPA to enable a responsive supply chain that evolves constantly at every stage. End-to-end supply chain management helps organizations precisely monitor inventory movements and thereby expedite or reduce the supply of inventory, based on consumers' demand.
2. Operational enhancements
35% of marketing leaders and 45% of management teams in diverse industries, rely on RPA solutions to enhance their everyday operational tasks. (Source: www.netsuite.com)
RPA Solutions in Supply Chain ultimately connect the inflow of goods with the outflow of products. An integrated system automates manual tasks like processing orders, managing inventory and logistics, and order entry to prevent redundant orders, all while freeing up working time for other crucial activities.
3. Synchronized Planning-Supply and Demand
RPA-enabled supply chains can operate efficient systems with no impact on the bottom line. Order fulfillment, payment tracking, asset losses, and any other operational task can efficiently be optimized for accuracy. This, as a result, ensures a synchronized mechanism between different departments that leads to considerable savings in cost and time for any business. 
RPA Solutions can be quickly integrated into other Company software applications and provide seamless end-to-end visibility in business performance and profitability metrics. The solutions provide immediate real-time information, statistics, and reporting that enable supply chain management by key performance indicators.
5. Cost-effective Solution
According to Forrester Research, RPA helps businesses save around 60% of costs on operations and labor-intensive tasks. Effective implementation of RPA solutions in supply chain and logistics will enable a significant reduction in overhead expenses incurred by the organization. The entire cost related to storing supplies and raw materials reduces dramatically as the advanced supply chain management systems help corporations get accurate data and control their purchases in a more cost-effective manner. This means more money and time available to focus on bringing profit to the corporate bottom line.
6. Scalability to your requirements
Irrespective of whether it is a big, mid-sized or small business, it's possible to quickly deploy logistics applications and regulatory compliance applications that enhance competitive edge and visibility. Depending on your requirements, more strong features and modules can be expanded. The functionalities can be customized according to specific operational, and administrative requirements in a way to manage the business and logistics supply chain.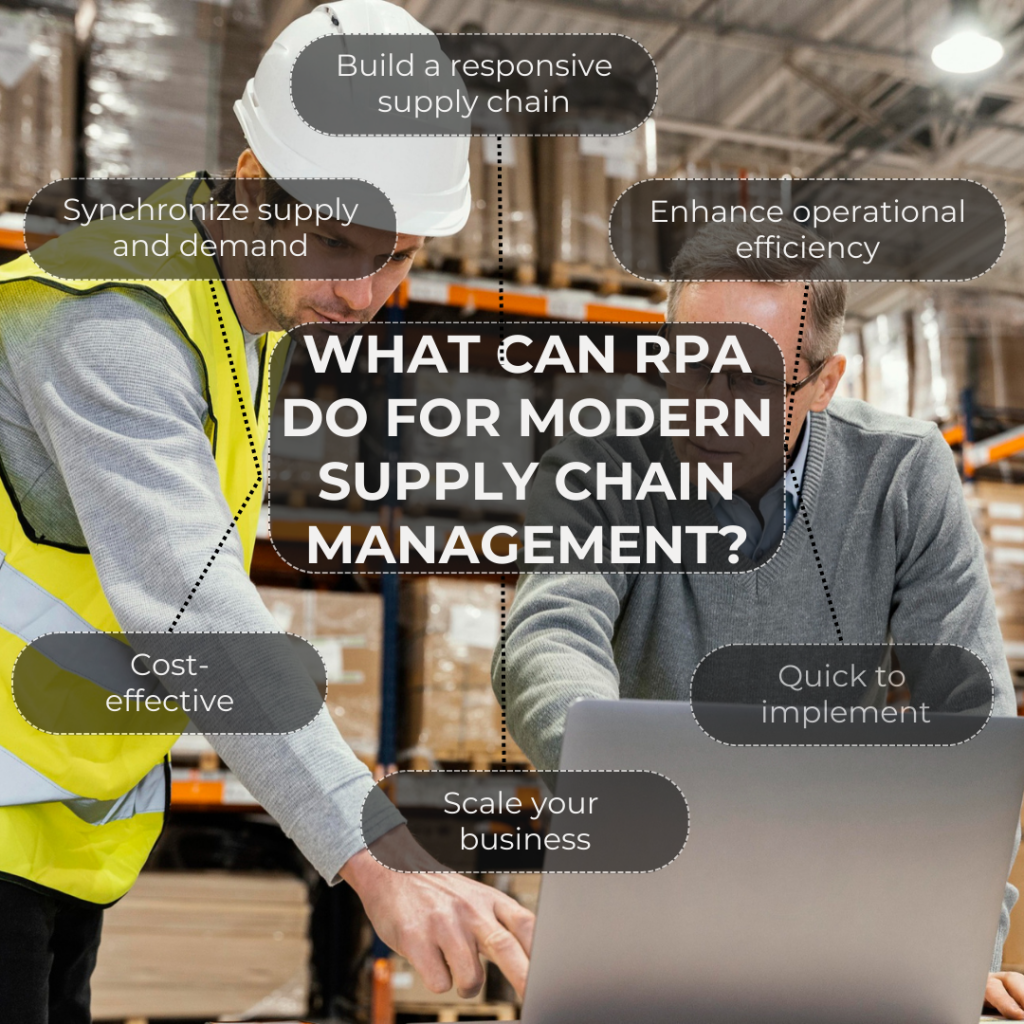 RPA Implementation for Supply Chain Workflows-Use Cases
RPA implementation can be divided into large corporations and SMEs, and according to the latest data, the bigger companies are the greatest accommodator in terms of market share.(Source: www.sciencedirect.com)
For most businesses, RPA is used in conjunction with popular digital levers like mobile apps, the Internet of Things, chatbots, and even blockchain to overcome some critical business challenges. Companies are incorporating RPA into logistics and supply chain workflows to cope with labor shortages and an overload of employees with repeat operations.
RPA has different applications in the supply chain with the most relevant being integrating data transmission across several functions. The data transmitted from start to finish can automatically be formatted and stored for future analysis. RPA Integration can smooth the analytics functionality by providing insights, tagging relevant datasets, and eliminating roadblocks in the process.
RPA technology is also a part of optical scanners that feed data to broader warehouse management systems defining vehicle paths, conveyor directs, and camera lanes for drones. In the modern supply chain, RPA-powered devices help create a more efficient system by eliminating the need for humans to manually haul goods around warehouses.
RPA implementation can entirely support the ticket management system and after-sale services. With no human intervention, businesses can experience no ticket processing errors and get more time to do other core tasks. In case of any delay related to customer experience and real-time order updates, RPA bots can also generate notifications and send acknowledgment emails to customers automatically.
According to a report by Deloitte, 90% of organizations employing RPA solutions experience improved productivity, compliance, and better management information. The technology has been identified as the best solution for delivering high enterprise productivity.
Another technological advancement in supply chain management systems is AI (Artificial Intelligence) which is widely used by Supply chains to automate the workflow and manageability of the system. Using RPA, Logistics professionals can collect and analyze information through IoT + 5G and can connect cloud services to on-premises data platforms. In the entire process, Robotic Process Automation is a smart intermediary that connects various platforms and modern technologies.
RPA offers the best supply chain management solutions at a cost you can afford ensuring businesses sustain visibility, productivity, and profitability. If your current supply chain management solutions aren't effective enough to create the SCM coordination and collaboration you desire, it's time now to explore RPA for Supply Chain Management.
The evidence in favor of RPA in the Supply chain is clear, and it is just about ready to change the supply chain and logistics industry from within. Not only will this ease the organizational tasks but also ensure that the best products and services reach the consumers at the right time.
If you have not yet adopted RPA for your supply chain management, it is time to do it! Call the experts at Auxiliobits to help you find the best RPA solution for your business. Our team will study your existing system and suggest RPA software that can enhance the productivity of your supply chain and provide better outcomes.
Watch this space for more on automation technologies and how they are disrupting various sectors!