Electronic Medical Records or EMRs have become an essential component of the healthcare ecosystem and with good reason! EMRs have facilitated the migration from on-paper to paperless medical records that have improved the quality of healthcare services.
Electronic Medical Records are software applications for better healthcare management of patients. They are digital medical records of patients that offer seamless communication and coordination between different healthcare professionals and departments. 
EMRs contain all basic data about the medical history of patients, treatment data, and other relevant information that has been collected over time. The EMR system acts as an interface for all clinicians, and healthcare providers such as pharmacies, labs, etc., to facilitate care. These online medical records are used by healthcare providers for diagnosis and treatment.
Electronic Medical Records enhance the quality, safety, and efficiency of healthcare while minimizing disparities. They improve care coordination and public health while providing a secure environment for patient health information. 
EMRs are often confused with EHRs' or Electronic Health Records. Although on the face of it, both seem to be similar, they differ from each other in several aspects.
What are EHRs and How are they Different from EMRs?
An EMR includes all the information found in a patient chart like medical history, diagnoses, allergies, medications, immunization records, and more. However, an EMR is limited to individual practice and cannot be shared outside the practice.
On the other hand, an EHR contains all the data included in an EMR and more. In addition to data such as past medical history and other medical details of a patient, an EHR includes information such as demographics, data from wellness devices, insurance information, etc. The data included in EHRs extends beyond one medical provider and includes a comprehensive patient history that can be accessed easily by different providers.
Both EHRs and EMRs are essential tools for healthcare service providers that facilitate a continuum of care for a patient.
Technologies such as AI and RPA are integrated into the EMR software to streamline different processes and improve the efficiency of workflows. EMRs provide large databases of information about each patient that can be leveraged to study healthcare trends within specific disease areas. Datasets can also be used to build predictive models. These models help clinicians in diagnosis and treatment. Artificial Intelligence (AI) extracts all types of data related to diseases and identifies a correlation between historical and future medical events. Machine Learning algorithms can detect new trends and predict health outcomes. Natural Language Processing makes it easy to access and extract data facilitating seamless integration with Telehealth and remote patient monitoring. Robotic Process Automation is another technology that is an integral part of EMR software. RPA replaces manual entry of patient information with software bots that also accelerate the process of digitizing patient records.
Software bots relieve the staff of mundane tasks such as data entry and reconciliation. The staff can focus on other activities that require human intervention. The success of a healthcare provider depends not only on the quality and speed of services but also on personalized services. Hence, the time saved by technology can be deployed to offer customized care to patients.
EMRs benefit both patients and clinicians and pave the way for high-quality healthcare services.
How EMRs Benefit Clinicians?
By offering a paperless mode of storing data, they enable healthcare service providers to save the space required for storing large volumes of paper records.

They reduce the task of storing, retrieving, and managing large volumes of paper records.

EMRs optimize workflows and enhance their efficiency.

An efficient process leads to serving an increased number of patients.

Minimizes operating costs.

Streamlines administrative processes.

EMRs offer a customizable and scalable platform for maintaining records.

Provide alerts and reminders to clinicians.

Speed up and reduce errors in documentation and coding.

EMRs offer interoperability because they interface seamlessly with hospitals, pharmacies, labs, etc.

They provide valuable data to aid in medical research.

Include safeguards that prevent prescribing treatments that would lead to adverse medical conditions.

EMRs help keep track of messages sent to staff, clinicians, hospital staff, etc.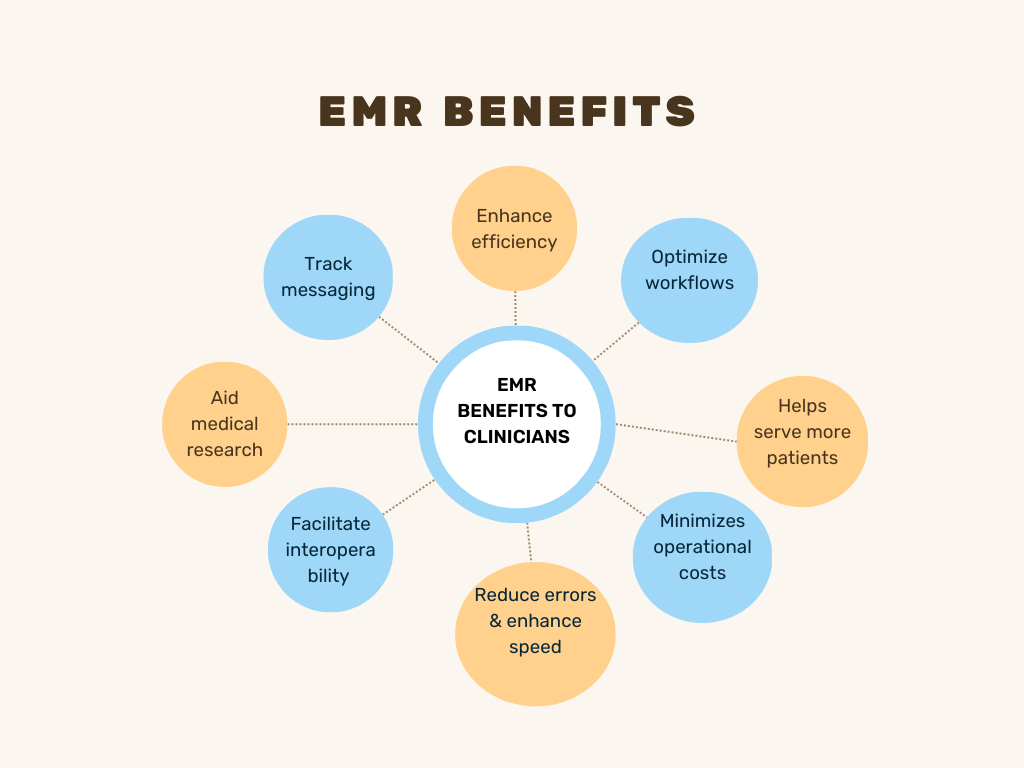 Benefits of EMRs to Patients:
EMRs reduce errors and provide accurate data to healthcare providers which enhances the quality of care.

They speed up the assessment and care process by providing relevant information as and when required by caregivers.

The timely availability of data improves the diagnosis, treatment, and quality of care provided.

They facilitate evidence-based decision-making at the point of care.

EMRs provide follow-up information to patients like reminders for appointments, self-care instructions, and more.

Send reminders to patients for preventive check-ups and screenings.

EMRs enable patients to access their records as and when required to view any specific information like medication prescribed, etc.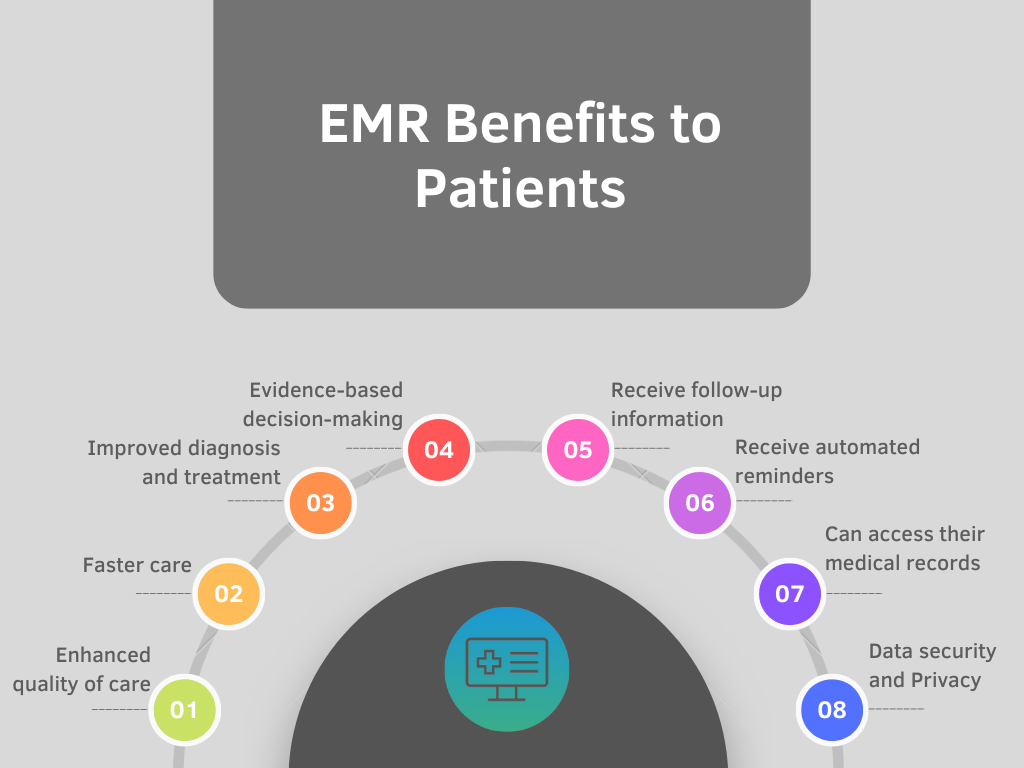 It is because of these benefits that EMRs are being adopted by healthcare professionals across the globe. The rising need for integrated healthcare systems across various hospitals and clinics has further increased the demand for EMRs. Besides, the pandemic has increased the complexities in data management that have made EMRs a Must-have tool for healthcare service providers. The growth of the EMR market is further fueled by the rising popularity of wearable devices. Such IoT-based devices can easily be integrated with EMR software.
The global EMR market which is estimated at $17.6 billion in 2023 is expected to surpass $ 32.3 billion by 2033.(Source: Futuremarketinsights)
Electronic Medical Records cater to the multidisciplinary needs of a healthcare service provider. There are different EMRs to address various needs of a healthcare facility.
Some Popularly used EMRs are:
Cloud-based EMR

facilitates remote access to data.

Mac EMR

is designed specifically for users of Apple devices.

ONC-certified EMR

is software that is certified by the Office of National Coordinator for health information technology.

Mental Health EMR

is designed especially for mental health clinics, therapists, etc. It includes features that simplify the task of mental health professionals.

Medical Billing EMR

integrates with different billing functions like confirmation of insurance claims, payments, etc.
Epic

ModMed

NextGen Healthcare

WebPT

Oracle Cerner

Pabau

TherapyNotes

athenahealth

Practice Fusion

Intergy 
EMRs are the first step towards automating healthcare services. EMRs provide the required input to automation bots that are used for streamlining different processes and workflows. Enterprise-level automation of healthcare services leverages the data provided by EMRs. Different processes like patient scheduling, referral automation, claims to process, and more can easily be automated with the help of Electronic Medical Records.
If you are looking for seamless automation solutions for your healthcare services, you will need to select automation software that integrates easily with your EMR. Connect with the experts at Auxiliobits for custom automation solutions for your healthcare facilities. 
Our professionals have several years of experience in providing automation technology to healthcare services.

We help our clients choose the best automation software that integrates easily with their EMRs.

We provide cost-effective software solutions that boost the ROI.

Our experts understand the nuances of healthcare functions and recommend automation solutions that are aligned with the specific needs of a healthcare service provider.

We provide after-sales support to our clients.

Our professional team ensures seamless integration of automation to your existing EMR.
Healthcare service providers are constantly seeking value-based care solutions that enhance the quality of care. EMRs have emerged as a single solution that enhances the quality of patient care, reduces costs, and improves outcomes throughout the continuum of care. EMRs improve the speed and accuracy of processes and facilitate better care. Timely and quality care services enhance the patient experience which is a critical factor for the sustenance of a healthcare provider.
Looking for more on how automation is impacting different sectors?
Read our forthcoming blogs on automation!