Whether you are selling products, goods, or services, an order is complete only when the customer receives their order or how the order is fulfilled.
Order fulfillment is a critical element that impacts customer satisfaction. As the name indicates, order fulfillment is fulfilling the order of the customer. In other words, providing the customer with the product they ordered in the time frame promised and in good condition. These aspects can make your customer happy or unhappy!
As we are all aware, in today's market, "Customer is King!" A business surely cannot afford to displease the "King." Therefore, to delight the customer, you must ensure that the order is fulfilled in a manner that it meets the customer's demands.
Order fulfillment is an umbrella term that includes several processes such as:
Products/goods are sourced into the warehouse from multiple sources. The inventory is counted and inspected to ensure that it is in the right numbers and meets the quality standards. The goods are inventoried and sent for long-term storage/short-term storage as required. Inventory planning is done to manage the distribution of products for current sales instead of storing them for future sales.
Order processing implies picking and packing the ordered goods as per the orders received from the customers. There is a designated picking team that selects items in the warehouse according to the instructions in the packing slip. These instructions include details such as a list of item SKUs, product color, size, location in the warehouse, etc.
The packing teams pack the products for shipping. It is the responsibility of the packing team to ensure that the package includes the labels required in case the customer wants to exchange or return the order and claim a refund.
After packing goods are shipped through different freight carriers which charge according to the weight/dimensions of the package. Most carriers have specific packing rules to optimize the shipping space. If you do not adhere to those rules, shippers may refuse to take your order and thereby delay deliveries.
Finally, shippers or their ancillary partners deliver the goods to the customers.
Your order fulfillment strategy must include returns processing to ensure that returns or exchanges are managed seamlessly. Returns processing includes adding a return label on the packaged article and quality control checks on the returned product. Based on the condition of the returned product, it may be restocked or returned to the vendor/manufacturer for a refund or credit.
The supply chain includes tasks such as order management, inventory management, transportation, logistics, and warehousing. Supply chain management optimizes the material flow to ensure that there is no shortage or excess of goods. It tracks the material flow to identify the bottlenecks and address them.
Customer service is a vital aspect of the order fulfillment strategy if you want to boost customer experience. You will need to offer an interactive communication channel to customers where they can resolve their queries. Some vendors also provide customers with regular updates regarding the movement of their orders. It is a good idea to inform the buyer about any delays in delivery upfront because it helps build trust and customer loyalty.
It is essential to ensure that your order fulfillment process functions seamlessly because any bottlenecks can negatively impact customer experience.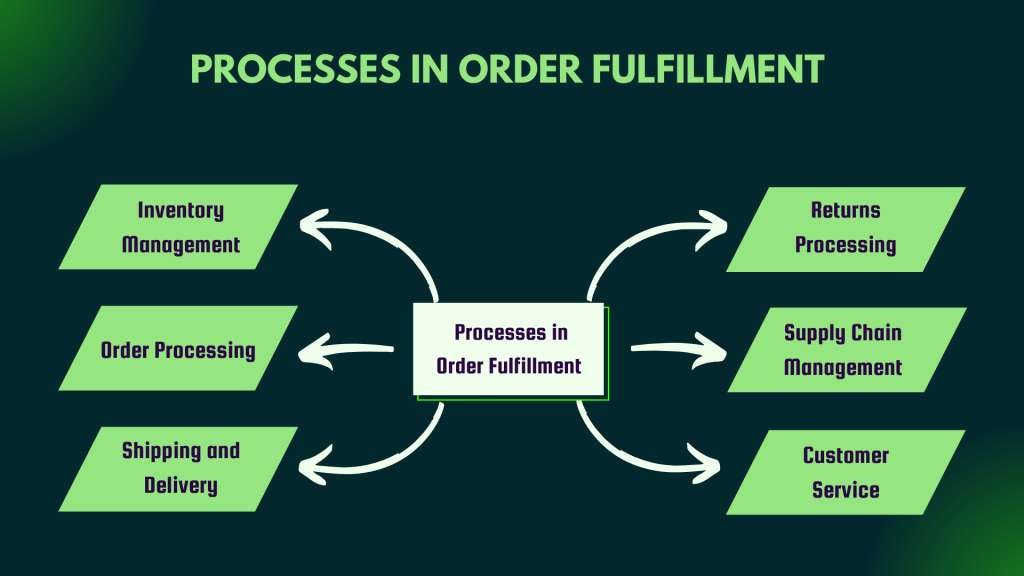 Common issues in order fulfillment:
Most businesses lack the inventory visibility of their supply chain which leads to under-stocking.

Sometimes there is excess stock which is expensive to store and carry. Besides the articles run the risk of getting damaged.

Any glitch in the logistics planning can lead to missing or slow deliveries. Other risks with improper logistics planning include damp packaging, broken/damaged products, etc.

Delays in shipping due to adverse weather conditions. Delays may also be caused due to long queues at shipping ports, etc.
While all these operational factors impacted the process, manual order fulfillment has administrative challenges to cope with as well!
The staff that works in the order fulfillment cycle have to invest a lot of time in comprehending instructions, comparing orders and shipping addresses, etc. This slows down the process. 

The manual processing of Purchase Orders is slow and inefficient. The staff has to manually query the system for each order and physically validate the order. 

Each order is processed all order information Is drafted in spreadsheets. The PDF version of the orders had to be Optical Character Recognition-friendly.

There are concurrency issues when different stakeholders try to access data at the same time.

The manual system can't process large volumes of voice orders.

The staff had to switch between different systems and spend a lot of time managing complex workloads making the process vulnerable to errors.
The sum total of all these factors is poor customer experience. In a highly competitive market, businesses need to ramp up their order fulfillment processes for better outcomes.
Technologies such as Robotic Process Automation (RPA) and Artificial Intelligence (AI) come to the forefront to overcome the challenges in the order fulfillment process.
RPA is a technology in which bots automate different rule-based processes to enhance their efficiency. Bots are software programs that complete tedious manual tasks in quick time without any errors. RPA bots perform specific tasks and repeat those tasks to automate business operations.
RPA optimizes costs by providing a super-efficient digital workforce that performs different business processes faster with minimal errors.
How does RPA Boost Order Fulfillment Strategy?
RPA bots can automate the entire order fulfillment process and overcome all the shortcomings of manual systems.

RPA can automate several processes in order fulfillment such as the verification of orders, extracting stock Information, extraction of customer data, etc. from different sources at a fast speed. 

Tasks such as order processing, payment processing, procurement, tracking inventory levels, and deliveries can also be automated by RPA.

Bots can also replace humans in tasks like picking and packing products for delivery.

RPA is used along with the Internet of Things (IoT) for seamless transportation and delivery of products.
Benefits of RPA in Order Fulfillment:
Reduces error rate by replacing humans in repetitive tasks.

The order fulfillment process is unaffected by shift changes, etc. 

RPA bots can seamlessly manage complex workloads even during peak hours.

RPA bots function 24/7 boosting productivity and reducing the time of delivery.

The staff is freed to perform tasks that require human intelligence.
While RPA works effectively for all rule-based processes, it has a limitation-it cannot process unstructured data. 
To boost the capabilities of an order fulfillment strategy, you need to leverage unstructured data as well. Unstructured data may come from multiple sources like emails, customer interactions on social media, audio/video data, etc. These data points provide a better understanding of the customer. The information is extremely useful for developing marketing strategies customized to the needs of the customer.
Technologies like AI and Machine Learning (ML) can manage unstructured data. AI collects large volumes of data and analyzes it. It extracts data from multiple sources and consolidates the data in a single database that different stakeholders can access. ML is a self-learning technology that learns from existing data sets and can predict future trends. 
RPA and AI work in tandem to hyperautomate different workflows and enhance their efficiency which in turn leads to customer satisfaction.
Automated Order Fulfillment Workflow
The customer order is received and accepted by the automation bot.

RPA bot automatically sends a confirmation message to the customer.

The automation software routes the order to the specific warehouse.

The items are detected and scanned with the help of Computer Vision.

The AI algorithms translate unstructured data to streamline order processing.

Bots scan SKUs and pack the ordered products.

Scanning facilitates the grouping of multiple SKUs in one order to ensure that the products are shipped at the same time.

Bots place the items carefully to avoid collisions to prevent damage.

RPA bots transport and load items in trucks for shipping.

AI software suggests the best routes that circumvent bad weather and poor road conditions.
Benefits of Hyperautomation in Order Fulfillment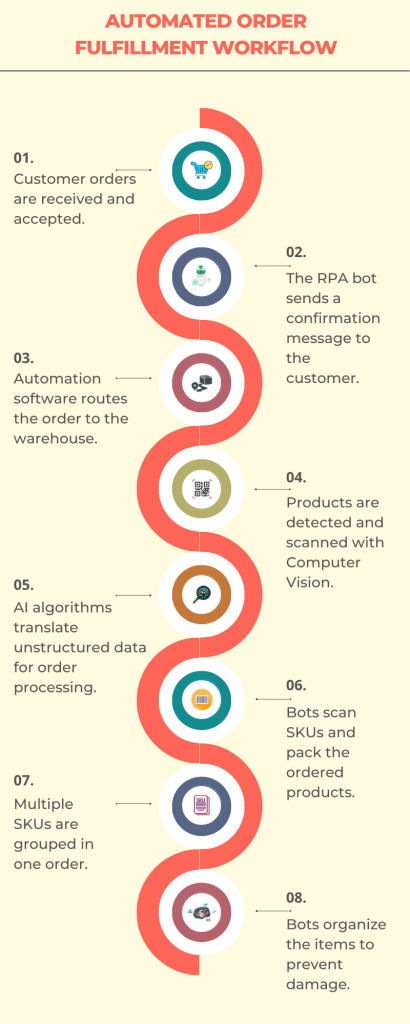 Automation of processes like accepting customer orders, and tracking and updating inventory levels.

Collecting data and analyzing it to understand customer behavior. This data helps forecast customer demands and streamline inventory management.

AI merges the inventory and sales data to facilitate better decision-making.

It provides visibility about the movement of goods to the staff and the customers.

AI facilitates scalability.

AI-based chatbots facilitate seamless customer service by resolving customer queries round-the-clock.
How to Implement Automation in an Order Fulfillment Process?
Establish your automation goals.

Allocate a budget for implementing automation.

Identify the processes that can be automated with RPA.

Assess whether your business requires RPA or AI-based automation.

Choose the right automation tool which integrates seamlessly with your systems.

Verify if the tool can help you achieve your automation goals.

Re-define the job roles based on the automation strategy being adopted.

Train your staff in using the automation tools efficiently.

Test if the automation functions seamlessly at your location.

Implement automation.
RPA and AI-based strategy has great potential to transform your order fulfillment process. However, it is imperative that you choose the best tool for your business. Only the right tool can boost the efficiency of your business.
If you are thinking of enhancing your order fulfillment process, connect with the professionals at Auxiliobits! Our experts have several years of experience in providing customized automation solutions to clients. We recommend software tools that align easily with your existing systems. Our professional team works to understand your automation objectives and suggests cost-effective tools.
Watch this space for more on RPA solutions!