What is the first thing that comes to mind when we think about Human Resource Management (HRM)? 
Probably, Hiring or Recruitment!
Maybe Training or Compensation & Benefits!
But HRM is much more than that!
The definition of HRM according to Storey 1995 is "It is a distinctive approach to employment management that seeks to achieve competitive advantage through the strategic deployment of a highly committed and capable workforce with the help of an integrated array of cultural, structural, and personnel techniques!"
Simply put, it means that the Human Resource department enables businesses to get the most out of their workforce. They accomplish it through several functions that help the organization move ahead!
Some of the basic functions of the HR department include:
Recruiting the best talent is one of the key functions of Human Resources. People are the lifeblood of an organization and quality of hires can make or break the organization.
Performance management is the process of ensuring that the employees become their best selves at work. Each employee has specific roles and responsibilities. They are given feedback through performance management to help them enhance their performance.
Learning and Development drive the organization to achieve its long-term goals. The learning and development initiatives empower employees to adapt to changing processes, technology, societal or legal shifts, etc.
Succession planning is the process of creating a talent pipeline. In other words, it is the process of planning contingencies in case key employees leave the organization.
Compensation and Benefits
Fair pay is the key element for attracting the best talent, motivating them, and retaining them. Hence, compensation planning is an important function of the HR department. Planning the compensation and benefits requires balancing the budget and profit margins. It also includes activities like conducting pay audits, monitoring pay increases, setting standards of merit, and more.
However, the HR landscape is continuously evolving because of the changes in the internal and external environments. These changes pose new challenges to HR professionals.
Going into 2024, let's look at some of the challenges before HR professionals:
With a dearth of candidates with the right skill sets and know-how of trending technologies, the competition for recruiting top talent is expected to amplify in 2024, especially in niche industries.

As businesses shift towards remote and hybrid work culture, ensuring seamless communication and collaboration is a challenge. Besides a cultural shift is required within the organization.

Technology is advancing at a rapid rate and so are the related functions. Hence, it is imperative that businesses ensure that they organize training programs to up-skill their existing workforce to stay relevant.

Employee experience has become a vital factor for retaining top talent. Today's employees give more importance to the experience the company provides than even the compensation it offers. Factors like how employees are treated, employee engagement programs, etc., have become vital factors in today's work environment and this trend is likely to continue in 2024 and beyond.

The pandemic brought to light aspects such as employee well-being and mental health. HR departments need to focus on the ongoing impact on the mental health and well-being of their employees.

As businesses migrate to the cloud and reliance on digital platforms increases, data privacy and cybersecurity have become areas of concern. HR professionals need to take steps to protect sensitive data from cyber threats by ensuring compliance with data privacy regulations.

One of the pressing issues before HR professionals in 2024 is going to be building a diverse and inclusive workforce. 

HR departments also need to cope with the rapid pace of technological disruptions. They need to adopt the right technologies to stay relevant in a highly competitive market.
Needless to say, HR professionals have their plates full and need to reinvent themselves and adopt innovative ways of functioning!
One technology that has made an emphatic presence and is driving change in the Human Resource Management ecosystem is Artificial Intelligence (AI)!
What is Artificial Intelligence?
AI refers to computer software that performs tasks that were traditionally performed by humans such as reasoning, problem-solving, and decision-making. AI is an umbrella term for a range of technologies such as Machine Learning (ML), Deep Learning, Computer Vision, Natural Language Processing, Chat GPT, and more!
AI is transforming the way in which we function in several areas such as autonomous vehicles, medical diagnostics, risk mitigation, and more.
AI has a vital role to play in Human Resource Management. AI is increasingly being used to drive decisions about hiring, retention, and employee development. It can analyze employee data in employee behavior and provide insights for informed decision-making. AI can also automate tasks like payroll and benefits administration, etc. Data shows that 88% of companies across the globe use some form of AI in HR including recruitment. (Source: MS Power User)
Let us look at some key areas in HRM where AI is making transformational impacts:
Recruitment is an ongoing function of the HR department. It is time-consuming and includes several ancillary tasks like shortlisting applications, scheduling interviews, organizing skill assessments, and more!
AI automates most of the recruitment-related processes starting with advertising vacancies and shortlisting candidates to onboarding. AI reduces man-hours spent on such tasks, relieving the staff for tasks that require human intelligence. AI also eliminates human errors, and unconscious bias in recruitment and enhances accuracy and speed of recruitment. It streamlines skill assessments. 
AI not only facilitates hiring top talent but also boosts candidate experience. Hence, it comes as no surprise that the global AI recruitment market is expected to reach a whopping $942.3 million by 2030. (Source: MS Power User)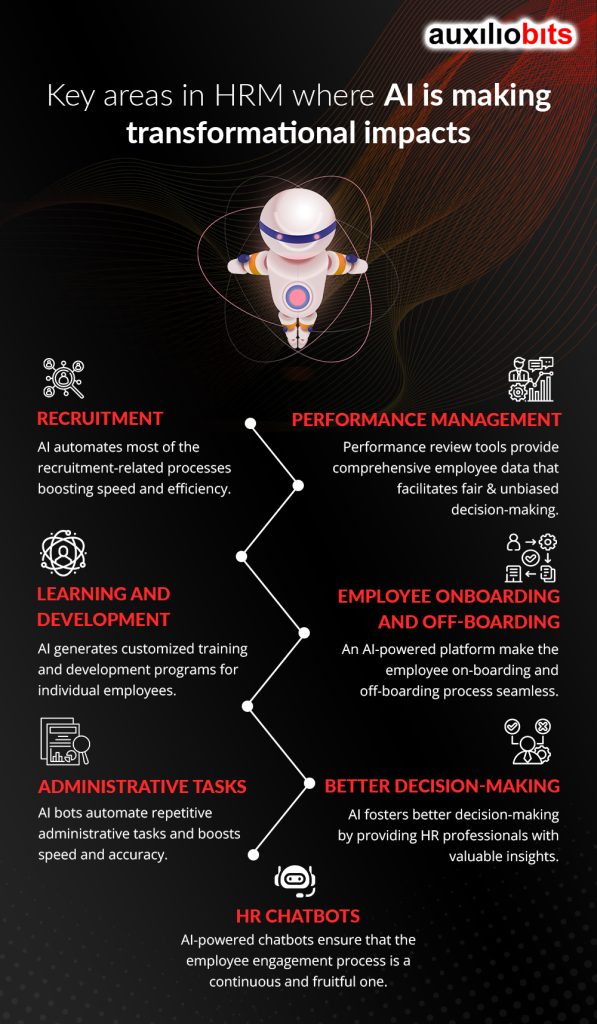 AI bots track and analyze employee performance data throughout the year. It considers variables such as completed tasks, project involvement, peer feedback, etc. Performance review tools provide HR professionals with comprehensive data highlighting each employee's strengths, areas for improvement, and progress made over time. These insights facilitate fair and unbiased decision-making.
Upskilling employees or training new employees can be a complex task for the HR department. AI takes over this task by generating customized training and development programs for individual employees. It seamlessly bridges the gap between the current skills and future needs. AI also boosts internal hiring of resources by matching the employee's skills to the job role.
Employee Onboarding and Off-boarding
When a new hire joins an organization, they are overwhelmed with complex paperwork and processes. An AI-powered platform walks the employee through the essential forms, introduces them to company policies, sets up initial training sessions, and more! This greatly boosts the employee experience.
AI-based platforms also make the off-boarding process seamless by managing exit surveys, return of company property, and more.
The HR department has myriad administrative tasks that need to function seamlessly. 
Some of these tasks include:
Updating employee details in the database whenever there are any changes.

Verifying employee documents and details.

Drafting the rules and regulations for the organization.

Data entry 

Ensuring compliance
All these tasks are monotonous and time-consuming. When performed by humans, they are vulnerable to errors. Automation tools like Robotic Process Automation (RPA) and AI automate these tasks to enhance speed and accuracy.
Artificial Intelligence fosters better decision-making by providing HR professionals with valuable insights based on data analytics. AI tools can be deployed to conduct surveys, collect employee feedback, and analyze business-centric data. It helps HR professionals determine employee engagement, performance, and improvements in various areas. AI bots also provide HR teams with specific data to track inefficiencies.
With the increasing focus on employee experience, employee engagement has become a critical function of HR departments. Employee engagement requires monitoring and evaluating employee sentiment on a daily basis. AI-based chatbots simplify this task by creating personalized user interactions. These interactions reveal unique issues, desires, and requirements of individual employees. Hence, AI-powered chatbots ensure that the employee engagement process is a continuous and fruitful one. Gartner predicts that chatbots and other conversational AI platforms will manage 75% of HR inquiries. (Source: Work Elevate) 
These are some areas where AI is making huge strides in the realm of HRM!
There is a plethora of AI tools available in the market for managing HR functions. Choosing the right one can be a daunting task. The best approach to integrate AI in your HRM is to identify the specific needs of your business, compare different tools that meet your needs, and select the best one. 
If you are looking for the best AI solutions for your HR functions, connect with the experts at Auxiliobits!
Our professional team has several years of experience in providing AI-based solutions to global clients. We recommend the best tools that can be customized to meet the specific needs of your business. We suggest cost-effective automation solutions that will boost your ROI!
AI has immense potential in transforming HR practices and processes. Strategic integration of AI drives engagement, boosts efficiency, and delivers exceptional employee experience. By embracing AI, HRM can stay competitive and experience unprecedented success. Businesses that leverage automation technologies effectively will remain at the forefront of shaping the future of HR.
Read our upcoming blogs about the latest automation technologies!