RPA or Robotic Process Automation is the new buzzword in business circles. This phrase ignites a lot of curiosity and interest, especially in the industry. While many have already adopted it and are reaping the benefits it offers, others are still unclear about what exactly it is; whether it can be applied to their business, etc.
Let me clear some of the clouds surrounding RPA and break it down in simple terms.
What is RPA for Business?
RPA is essentially a software program. This program helps to build, deploy, and manage "robots" that can automate several mundane tasks without human intervention. The robot is programmed with a set of instructions that it needs to perform. The robots built with coding interact with all the digital systems and processes pertaining to the business. The robot replicates the way a human interacts with a particular process or system at a faster speed with minimal errors.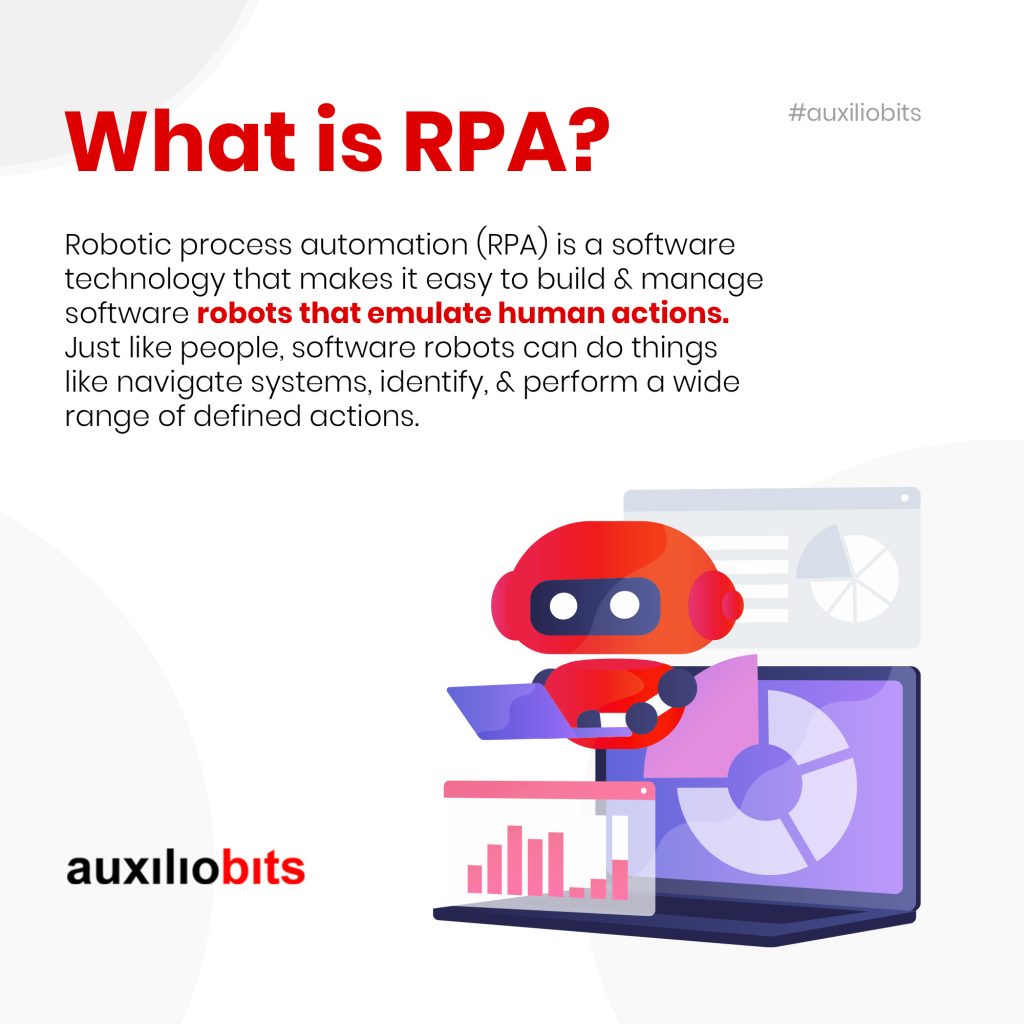 Automation has been around for over a decade now. But RPA is different from all other forms of automation. RPA has the intelligence to determine if a process should occur. It analyzes the data gathered and makes decisions based on the logic parameters in the code.
RPA is spearheading digital transformation across industries because it functions on low-code or no-code solutions facilitating digital transformation by non-IT professionals as well. However, many businesses are a little wary of adopting RPA because of the belief that their existing systems will no longer be functional but will need to be replaced by completely new technology. This is far from true! The fact is that since most legacy systems mimic human interactions, it is easier to train robots on existing legacy software. This is the non invasive nature of RPA.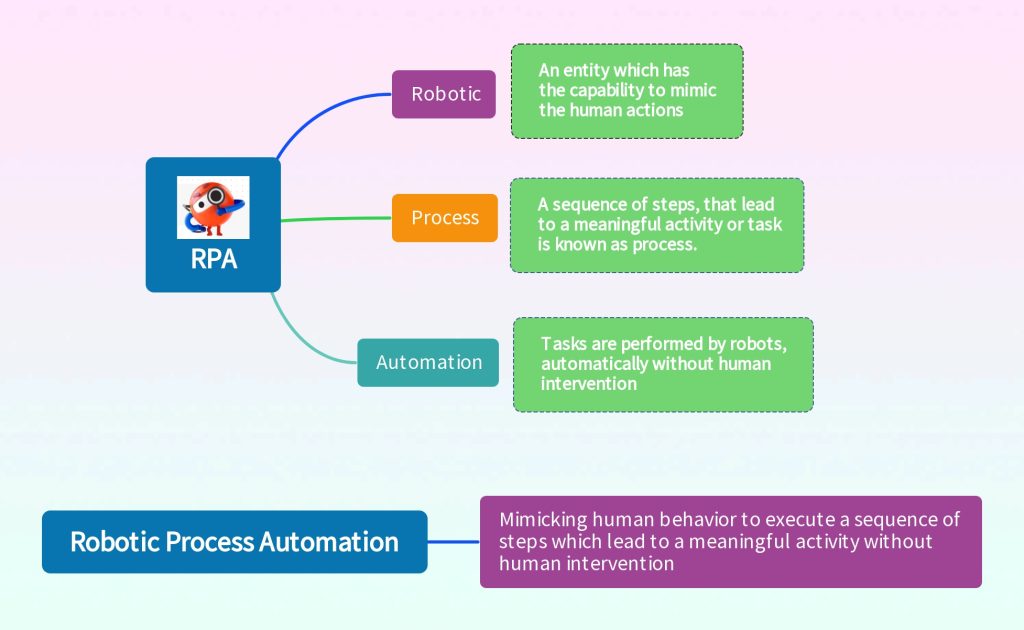 Auxiliobits provides RPA software that integrates seamlessly with your existing systems increasing the productivity and efficiency of various processes.
Why is RPA a must for Digital Transformation?
Data reveals that on average workers spend at least 4 hours and 38 minutes weekly performing duplicate tasks. Just imagine how many man-hours a business can save by simply automating these tasks with a robot.
This also means that the workers who are relieved of the duplicate tasks can be deployed for higher-level functions that require human intelligence.
So, replacing humans with a rule-based robot for repetitive tasks reduces human errors in the tasks as well.
Robotic Process Automation can reduce labor-intensive tasks by almost 80%(Source: Automation Anywhere).
The robot performs the following functions:
Captures and interprets data to process various transactions.
Interprets data
Manipulates data.
Triggers response
Communicates information with other digital systems.
Simply put the robot is a single entity that collects, interprets, and manipulates data to trigger responses and communicate them. So, we can see that this all-in-one robot performs the functions of so many people. An automated process not only reduces man-hours but also cost. Besides, it performs all these functions at high speed and with great accuracy.
Therefore, it comes as no surprise that 53% of the respondents, in a survey conducted by Deloitte Global RPA survey, have already embarked on their RPA journey. The survey also revealed that 19% of the respondents are planning to adopt RPA in the next two years.
RPA can be used in different ways to automate repetitive tasks in both the back office and front office. RPA finds application across several verticals including banking, insurance, healthcare, energy and utilities, retail and hospitality, and more.
Some common examples of Robotic Process Automation are automation in data entry, invoice processing, data extraction, employee on-boarding, etc.
RPA has been found to be highly effective in automating processes in various business departments including Sales, HR, operations, and more.
The reason why businesses are making a beeline for RPA is because of the multiple benefits it offers.
Following are a few benefits that can be reaped using RPA.
Boosts Productivity
Cost-Saving
100% Accuracy
Secure Environment
Scalability
Process Enhancements
Better Customer Experience
Manual tasks can be tedious. Besides, they take up a lot of time and efforts of the employees leaving them with hardly anytime for activities that use their skills.
Here's what RPA does: When you configure the robot appropriately in the workflow, the humans and robots work in tandem. This enhances the team's capacity for performing a specific task while reducing the time required for data processing. The work gets done much faster generating more time for your employees to perform other tasks.
In most business set-ups today, employees spend long hours on tasks like copying and pasting data. This task is prone to errors and inaccuracies. When workers are assisted by robots in such tasks, the time and accuracy of the process improve. Overall the processing costs decline while the per-employee output increases.
Let me explain how the accuracy of a process improves with Robotic Process Automation. Errors in account payable are quite common in businesses. A simple error like the wrong entry of a digit in the task can prove to be a costly mistake for the business. When such tasks are automated using bots, the margin for error is zero. 100% accurate, error-free output can be achieved with the help of robots.
One reason why many businesses are skeptical about adopting RPA is the belief that it is vulnerable to data breaches. The security aspect can easily be managed by strictly defining the RPA parameters. This greatly minimizes the risk of data leaks between platforms. A well-developed and maintained software provide a secure environment. In fact, for systems that process personal data, RPA reduces human interactions with sensitive information providing a safe and secure process.
Another attractive feature of RPA is scalability. It facilitates the seamless growth of an enterprise. Besides, RPA provides the best solutions for businesses that need to manage seasonal demands or sudden increases in demand. The scalability feature of RPA enables a business to cope easily with fluctuations because robots can scale up and down easily and quickly.
RPA constantly gathers data and interprets it and processes it. Based on the data collected, RPA is capable of analyzing process gaps and areas of improvement that many a time humans miss out on. The development team can utilize the data provided to enhance the process for better outcomes. This further increases the efficiency of the process.
Better customer Experience
In today's market, the "customer is King" and businesses need to provide a great customer experience if they want a competitive edge for their business. RPA helps you create a great customer experience by automating mundane tasks. This frees up the time of the customer care agents giving them an opportunity to give quality time to their customers. The high speed and accuracy offered by RPA help improve the quality of service provided. This not only engages your customers but also helps retain them.
RPA offers the above benefits and more! But before you decide to adopt RPA for your enterprise, you must understand that RPA is not suitable for all processes.
A business process must meet the following criteria in order to be implemented:
Processes that handle large volumes of transactional data and are repetitive.
It is suited for standardized processes in which rule-based decisions are taken.
RPA can be implemented in processes that are documented and stable.
Assess whether implementing RPA will provide the required ROI for your business.
So, if your business meets all these criteria and is a perfect fit for RPA, connect with the dynamic team at Auxiliobits! We will speed up the digital transformation of your enterprise with customized robots for your processes.
You can also conduct an RPA opportunity assessment through your internal teams or through Auxiliobits to understand the potential that RPA can bring in.
Auxiliobits provides AI-powered RPA services to HyperAutomate your Business! Find out more in our upcoming blog!