Robotic Process Automation has evolved over recent years. It started off by automating processes in a way to emulate humans for their rule-based repetitive and low judgement tasks. The innovations around computer vision and ease of authoring the human-like workflows kick started the automation era.
RPA is all set to increase its intelligence in process automation in a way that humans can not only be emulated but their capabilities can be augmented. And all this is possible since RPA is becoming AI!
In order to perform automation that are non-routine and require more cognitive tasks RPA robots are learning new skills all the time. RPA is the future framework for deployment of enterprise level AI.
There has been a disconnect between the hype and reality of AI. According to reports from Forrester up to 80% of the machine learning models are never deployed due to various reasons ranging from low understanding of underlying models with business to just not addressing the root cause and trying to improve the effect of the process. RPA can help improve the deployment rates by facilitating data analysis and reports and retraining the models according to the business needs.
An enterprise business process workflow involves learning and improving using data analysis, judgement on data and action over that data. RPA bots are capable of processing intelligence of computer vision (Activity recognition, Image recognition, Machine vision), NLP (Machine translation, NL understanding, NL generation) and can facilitate deep learning skills. RPA will be able to expand to automate more than simple transactional processes by integrating AI technologies. RPA can integrate other AI technologies to automate other types of processes.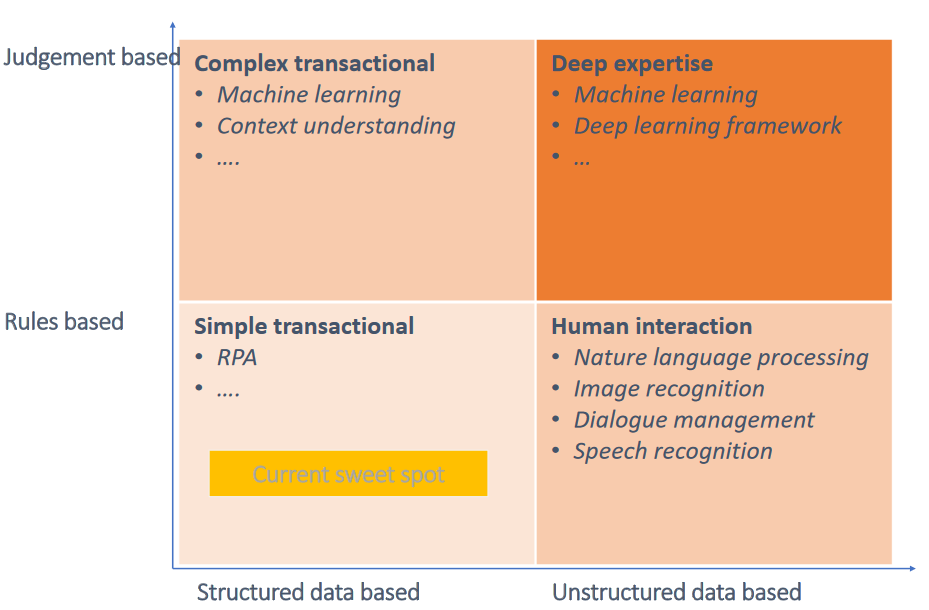 How RPA accelerates AI strategy?
With RPA included in the AI development phases it can accelerate the AI development and deployment strategy.
RPA can facilitate targeted and narrow AI focused on solving problems specific business problems.
An RPA workflow can include AI skills that can be simply drag and dropped providing faster and easier AI integration
RPA can include out of the box analytics/BI that can quantify ROI quickly.
Specific and narrow models can be built quickly with consolidated data and digitized processes.
With democratized AI through low-code ML enables citizen AI developers to drive exponentially more automation.
In the new automation scenario RPA robots learn skills that augment humans.
The RPA robots can take rules based actions
RPA robots have visual understanding
Robots have document understanding

Robots can extract data from scanned invoices to populate your accounts payable.
Robots can define target skills and then find credentials in a pool of PDF resumes.
Robots can pull data from thousands of annual reports to populate a financial model or report.

Robots have conversational understanding

Robot can execute request via chat instructions.
Robot can execute request via voice instructions.
RPA bot can combine requests from CSR and chat bot into single experience.

RPA bots have process understanding.

Bots can observe user behaviors to scale up/down and identify new automation opportunities.
Bots can observe inter-departmental patterns to discover new automation opportunities.
Identify redundancies, dependencies and transformational opportunities.
Forrester estimates the RPA is around 10% of the AI spending for automation in 2020. Hence RPA is the subset of the AI technology spending for cubicle employment.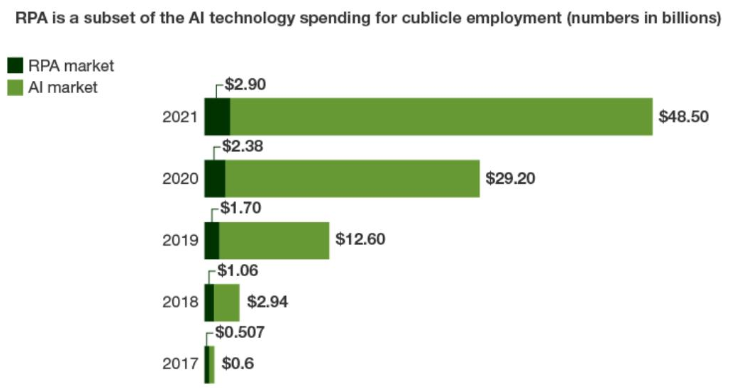 RPA is becoming the new AI and RPA market will reach $2.9 billion by 2021 according to the report.

RPA and AI Use Case examples. (Source: UiPath)
1. RPA with AI significantly reduces email communication turnaround time
A leading global insurer uses smart RPA robots to classify inbound customer requests. The challenge was that a single inbound email channel lead to inconsistent customer service. As a solution the RPA robots read the incoming email queries, send them to a machine learning model to classify the request to route it to the appropriate channel for follow-up. This resulted in better turnaround time and consequently better service.
2. Finance and Accounting balance accounts payable with vendor relationships
The RPA robots follow rules that optimize vendor payables with cash flow. The machine learning models determine if payment procedures put delicate relationships at risk. On the recommendation of the ML models the RPA robots re-prioritize the payment schedules.
3. Healthcare automating self service triage.
Policyholder submits claim for car accident. The RPA robot extracts the data of the claim and uses the machine learning model to recommend claim approval or denial. In case of an exception the robot routes the application to the team and on approval automates the next steps.
4. Capital Markets and Investments for automating equity research for institutional clients.
When a client submits paper application to the bank the intelligent RPA robot extracts OCR application data. This query to the unstructured data triggers a long-tail chat bot to query for missing information. The machine learning model assesses risks and recommends approval. The RPA bot receives approval and sends it back to the applicant along with up-sell and cross sell options.
As an enterprise you can evaluate the RPA benefits and create an AI strategy to benefit from the RPA + AI combination. To get to know more you can click here.